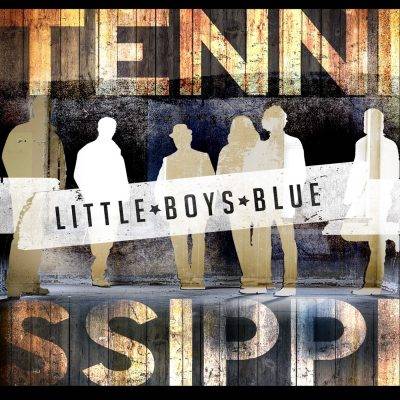 Little Boys Blue
Tennissippi
Vizztone Label Group/Jaxon Records
Little Boys Blue is a Tennessee based blues band originally formed in 1993. They may have taken their name from Aleck Miller who used the names Rice Miller and "Little Boy Blue" before renaming himself Sonny Boy Williamson II. Or possibly their name came from the song "Little Boy Blue" written by Robert Lockwood Jr. for Williamson; or perhaps from an altogether different song of the same name that appeared on Bobby "Blue" Bland's 1961 debut "Two Steps from The Blues". Regardless founding members Steve Patterson and J.D. Taylor chose a really cool name. In 1996 Little Boys Blue finished third in the band competition at the International Blues Challenge. Still going strong they released their widely acclaimed third album "Bad Love" in 2014.
Currently the band includes Taylor, lead vocals and harmonica; his son Alex Taylor, lead and rhythm guitar; Tyler Goodson, slide, lead and rhythm guitar; Dave Thomas, piano; Dave Mallard, bass, and vocals; and Mark Brooks, drums. Additional musicians include Jeremy Powell, keyboards; Brad Webb, guitars; and the Alabama Horns which includes Ken Waters, trumpet; and Bad Brad Guin, sax and flute.
J.D. Taylor wrote the title track "Tennissippi" with Brad Webb. The song is about growing up in Memphis with references to Robert Johnson and to the crossroads "that's when two states of mind collide". Taylor gives a great performance both vocally and on the harp. "Wanna Be Your Lovin' Man" was co-written by J.D. and his son Alex and it sports the lyric "I wanna ask your daddy for your lovin' hand" and another great harp solo. "Jackson" is a vigorous harp instrumental. These were recorded at the Webb Studios in Memphis.
Seven more songs were written by J.D. and Alex. "Lights On" features wah wah guitar; the Alabama Horns and a nice organ solo from Thomas. "Pack It Up Baby" features Thomas and solos from Guin on sax and J.D. on harp. "If I'd A Known" is a well done shuffle with solos from the band; while"35 Years" is a poignant vocal from J.D. Throughout these there is some great guitar from Alex and Goodson who as a team sometimes sound like Dickie Betts and Duane Allman.
The topical "Health Insurance Blues" was written by J.D. with Goodson. The only cover is Kenny Burrell's "Chitlins Con Carne" a Latin flavored instrumental with Santana like guitar that shows yet another side to this great band. These were recorded at The Fame Studios in Muscle Shoals, Alabama.
This is a fabulous recording from the Little Boys Blue. I'm already looking forward to seeing them next time I go to Memphis.
Richard Ludmerer