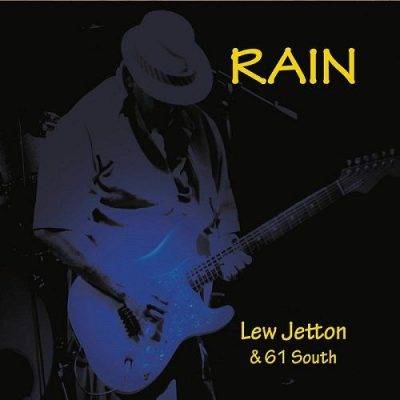 Lew Jetton & 61 South
Rain
Coffee Street Records
Lew Jetton was born in Humboldt, Tennessee in 1959. After college Jetton worked in radio before becoming a meteorologist and local television personality in Jackson. In 1989 he became a weekend news anchor in Paducah, Kentucky. Around 1994 Jetton joined the Paducah based blues band "61 South". Upon the departure of their lead singer Jetton became their frontman. "61 South" was soon opening for Luther Allison; Koko Taylor; Little Milton; and Chuck Berry. The band's first album "State Line Blues" was released in 2000. Their follow up 2006's "Tales from A 2 Lane" received a "Picks to Click" rating on XM Satellite Radio. In 2007 their first album was re-issued. The band wound up touring extensively throughout the Midwest and Mid-South.
"Rain" is Lew Jetton and 61 South's just released new album. They currently consist of Jetton, guitar and vocals; Erik Eicholtz, drums; Dan Bell, organ and guitar; Sam Moore, guitars; and Otis Walker or James Sullivan, bass. Guest musicians include Alonzo Pennington, guitar; Miranda Louise, vocals; Col. JD Wilkes, harmonica; and J. Solon Smith, piano. The album was recorded at the Coffee Street Studios in Paducah.
Eight of the ten songs were written by Jetton. Bell doubles on organ and guitar on "Who's Texting You". Jetton's infectious vocal completes this topical tune.
"Move On Yvonne" is a really good "Chicago meets New Orleans" song with great harmonica from Wilkes. Smith takes a wicked piano solo. Jetton sings lead until Louise takes a verse. Jetton then sings the last verse to close out the song.
"Mississippi Rain" is another good song featuring Jetton's guitar and vocal; and the rhythm section of Sullivan and Eicholtz. Wilkes is again on harp. On the poignant "Lay Me Down" drummer Eicholtz hammers out the beat while Moore is on guitar.
"Glory Train" opens with the voice of the Reverend Joann Green, a local radio preacher, before Jetton begins singing on this song about redemption. Pennington is on guitar while Louise sings the backing vocal.
"Sandy Lee, Sandy Lee", "you got the money that I need". Smith's piano highlights this fabulous tune. Walker sits in on bass.
"Feels Like Rain", the John Hiatt song, is the first of two covers. It is passionately sung by Jetton. Bell is featured on organ.
Jetton closes out this album with an expressive vocal on another cover. "It's Raining" was written by Allen Toussaint and it continues the album's theme. Its inclusion is also a fitting tribute to the late New Orleans icon. Smith's piano is absolutely beautiful.
This album should further establish Jetton who combines high energy with deep emotion. I just hope we don't have to wait too long to hear more from him and this talented crew.
Richard Ludmerer