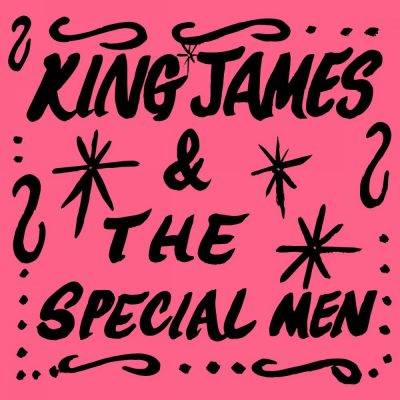 King James & The Special Men
Act Like You Know
Special Man Industries
King James & The Special Men play original songs in the style of 1940's, 50's & 60's R n' B. The band is led by Jimmy Horn who grew up in Utah. As a young man he was mesmerized by his dad's collection of 45's. Among his favorites was Little Richard's 1955 hit "Tutti Frutti". As he grew older he learned that the song was recorded at Cosimo Matassa's J & M Studio on North Rampart Street in New Orleans.
Horn moved to New Orleans in 1993. Once there he began to hang out at the local record shops especially Rock N Roll Collectibles on Decatur. The staff was obsessive about the music and from them he gained his education.
After playing guitar in many bands Horn decided to form King James & The Special Men. They played their first gig at the Mother-In-Law Lounge owned by Ernie K-Doe and his wife Antoinette. Doe had his own 1961 hit single "Mother In Law" recorded on the Minit Records label; it had been written and produced by Allen Toussaint. King James' repertoire consisted of songs made popular by New Orleans' locals Smiley Lewis, Fats Domino, Professor Longhair and Jessie Hill. The band took a Monday night residency at BJ's Lounge where they played for five years. Then they moved to Sidney's Saloon and later to the Saturn Bar on St. Claude Avenue in the Bywater.
King James & The Special Men consist of Jimmy Horn a.k.a. Jimmy James, guitar and vocals; Ben Polcer, piano; John "Porkchop" Rodli, guitar; Robert Snow, bass; and Chris "Showtime" Davis, drums. Their fabulous horn section includes Scott Frock, trumpet; Jason Mingledorff and Travis Blotzky, tenor saxophones; and Dominick Grillo, baritone sax. The band recently played the 2017 New Orleans Jazz and Heritage Festival.
This is King James & The Special Men's debut recording. The band opens with the song "Special Man Boogie" and immediately one is reminded of the sounds heard on 1992's "New Orleans Party Classics" a best selling compilation on Rhino Records. In fact the album's title "Act Like You Know It" is taken from "Don't You Just Know It" a 1958 million selling single from Huey "Piano" Smith & His Clowns.
"Baby Girl" and "Tell Me (What You Want Me To Do)" are blues that will remind you of New Orleans guitar icon Guitar Slim. "Eat That Chicken" is inspired by Jesse Hill a New Orleans hero and longtime writing partner for Dr. John. "9th Ward Blues" has a brass band sound with some great tuba playing from Jason Jurzak.
At The Museum of Natural History in New York City there was an exhibition on how early civilizations buried their dead. The inside cd tray includes a painting by Mike Frolick depicting a burial shroud titled "You Are Being Watch". It's obvious that Smith, Lewis, Domino, Longhair and other R n' B pioneers are being watched.
King James & The Special Men will also be watched. I just know.
Richard Ludmerer
[amazon_link asins='B0722DBX58,B07111QL1L,B071DJZD9N,B0722DBZ7K,B071YJ3S9W,B071NB4PCQ,B0722DBMSG' template='ProductCarousel' store='maasc-20′ marketplace='US' link_id='63c1c3bc-6feb-11e7-967a-8fa94ba84029′]