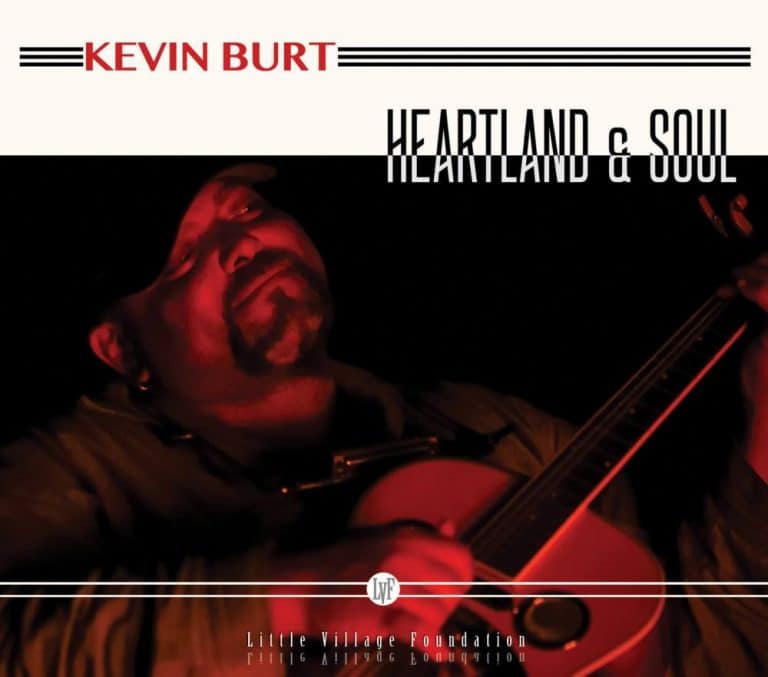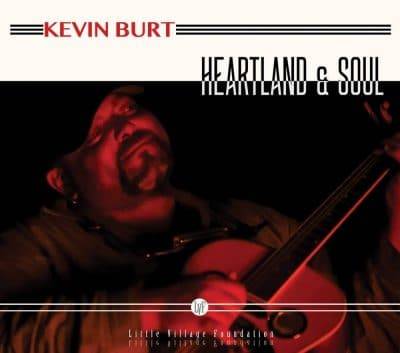 Kevin Burt
Heartland & Soul
Little Village Foundation
The latest installment from West Coast's Little Village Foundation and Kid Andersen's Greaseland Studios is Iowa-based Kevin Burt, the 2018 IBC Winner in three categories. Burt took the honors for Best Solo/Duo, Best Solo/Duo Guitarist and Best Harmonica Player. The irony of that is that Burt's greatest strength is his soulful vocal delivery.
The lineup for Burt's impressive debut includes the iconic Jerry Jemmott on bass. Let's pause for a second to mention just a few of the artists that Jemmott has backed including Greg Allman, B.B. King, Aretha Franklin, and Gil-Scott Heron not to mention countless soul, blues and jazz classics for the past fifty years. The rest of the supporting cast is quite strong too. Derrick "D'Mar" Martin is on drums, Jon Otis (Johnny Otis' son) on percussion, Andersen on guitar and melodica, Jim Pugh on keyboards and Lisa Leuschner Andersen on backing vocals. Burt sings, plays acoustic guitar and harmonica.
Burt has 11 originals plus an intense unique interpretation of Lennon/McCartney's "Eleanor Rigby." This generous offering of 52 minutes counts the aforementioned as a clear standout as well as "Wake Up, Baby," the infectious opener "Real Love" and more. "Smack Dab in The Middle' is not the oft- covered tune you may be thinking of but a Burt original that has a swampy Delta feel before morphing into a funky soul groove. That kind of funky vibe is evident in "I've Been Watching You" and "Day Day." It becomes even more gut-wrenchingly emotive in his seductive plea to his lady in "Never."  And, speaking of emotion, his lengthy "Thank You" rings with honesty and sincerity as he nods to his parents and friends. This is labeled a blues album but has the grove and feel of soul singers like Bill Withers and Howard Tate.
There's some worthy information in the liners, courtesy of writer Mike Kappas who witnessed Burt's performances at the IBC.  "….one artist was a surprise standout. Kevin's talent and his unpretentious charisma and refreshing engagement with the audience made everyone feel good immediately." And later describing the Award ceremony – "…Kevin may have been the only artist in the history of the event to win in every eligible category……and his beaming smile on stage was contagious as he was announced, one by one, as the winner of each award."
Later we learn that Kevin is active in Blues in the Schools and has earned formal recognition from the governor of Iowa as an artist educator. As for his musical inspirations it should come as no surprise after listening that for vocals he admires Bill Withers, Aaron Neville, Bobby Bland, Luther Vandross and Marvin Gaye. His harp heroes are Sonny Boy Williamson, Junior Wells, Lee Oskar, Billy Branch and Stevie Wonder.  Yes, that's a lot of names but somehow echoes of all of them filter through this music.
This is a breakout album from Kevin Burt – truly one of the best new blues artists to debut this year.
[amazon_link asins='B07HJVQZ7S,B003M50CJO,B076M2K8GK,B076M543WQ,B07HJZ85ZV,B07HJYR6Q3,B000HWWTWI,B07HJY5PC3′ template='ProductCarousel' store='maasc-20′ marketplace='US' link_id='6cc86110-d8e2-11e8-8f84-3f5e7013014f']