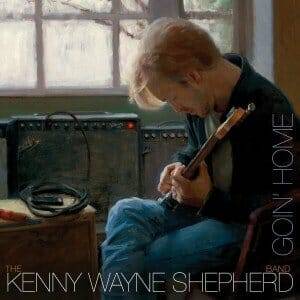 The Kenny Wayne Shepherd Band "Goin' Home" www.ConcordMusicGroup.com – www.KennyWayneShepherd.com
The Kenny Wayne Shepherd band moves to Concord Records using a "Louisiana Entertainment" moniker which is appropriate as Shepherd really does go back to his blues and (at times) Louisiana roots on the appropriately titled "Goin' Home." No band member changes, plus there are some very special guests: Rebirth Brass Band, Joe Walsh with Kim Wilson, Warren Haynes, Pastor Brady Blade, Sr., Keb' Mo' Robert Randolph, and even Ringo Starr assist on this all cover songs blues recording. And while I had some reservations about a potential train-wreck, the majority of this album flows particularly well, and feels fresh, even though no new ground is broken.
That being said Duck Dunn's, Don Nix' and Leon Russell's "Palace of the King kicks-off the album in high-fly fashion aided by the rousing horns of the Rebirth Brass Band, Noah Hunt is on top of his vocal game, as Shepherd leaps with blistering solos. No needed guests on Walter Jacobs' "Everything Is Gonna Be Alright" performed as it should as a down-home standard blues, Riley Osbourn tickles the ivories tastefully throughout and melds and assists when Shepherd explodes. Stevie Ray Vaughan and Doyle Bramhall's "House Is a Rockin'" is all pedal to the medal, Hunt exhumes Stevie Ray's vocal eerily interpreting Vaughan's mannerisms, again Osbourn strolls, and Shepherd unloads. Warren Haynes guests on "Breaking Up Somebody's Home" and smartly trades vocal barbs with Hunt, the tune develops as a deep soul-blues groove as Shepherd and Haynes trade riveting guitar licks towards the abrupt yet fashionable ending. "Looking
Back" is not from Johnny "Guitar" later-day funk era and is straight tinged Texas blues that works extremely well especially when Shepherd sets sail. Dual guests Keb' Mo' and the Rebirth Brass Band return on a rousing (William Bell – Booker T. Jones) edition of "Born Under a Bad Sign" Keb' Mo' introduces the vocal and quickly goes back and forth with Hunt, Rebirth's horns kick and make it funky too. I could have done without Muddy Waters' "Still a Fool" with Robert Randolph, even though Shepherd and Randolph amp up their instrumental segment which feels clunky to me, and I would have preferred to have ended this quality recording in a more upbeat way, but that's just me.
Shepherd fans will dig it, and I suspect with Concord's powerful marketing punch "Goin' Home" will introduce the Kenny Wayne Shepherd band to an even wider audience, and that's a very good thing. That being said; enjoy the solid cover tunes here, and when the KWS band comes to your town, be certain to go to see them perform live as you will not be disappointed, as they'll keep you rocking-on all night.
For fifteen years Bob Putignano has been pivotal at WFDU with his Sounds of Blue radio show: www.SoundsofBlue.com – Previously a senior contributing editor at Blues Revue, Blueswax, and Goldmine magazines, and Music Editor for the Westchester Guardian. Putignano can be contacted at: bob8003@yahoo.com
Bob Putignano: www.SoundsofBlue.com
Weekly Music Editor at: https://www.WestchesterGuardian.com – NYC area Newspaper Now celebrating 15 + years on the air at WFDU https://wfdu.fm
Click Below to listen and Purchase this CD