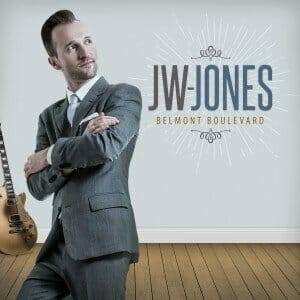 JW Jones
Belmont Boulevard
Blind Pig Records
JW Jones is an Ottawa based artist who has received twelve Maple Blues Award nominations. The Maple Blues Award is the Canadian equivalent to our Blues Music Awards. Jones released his first album "Defibrillatin" in 2000 on the Northern Blues label. Guest artists on his recordings include Kim Wilson, Gene Taylor, Colin James, David "Fathead" Newman, Little Charlie Baty, Junior Watson , Hubert Sumlin, and Charlie Musselwhite. In 2012 Jones released the independently produced "Seventh Hour". This is Jones 8th studio recording and first for Blind Pig Records.
For this recording Jones chose Grammy winning producer Tom Hambridge. Hambridge is the most in demand producer today having worked with Buddy Guy, James Cotton, Joe Louis Walker, Marcia Ball, Devon Allman and many others. The band includes Jones, vocals and guitar; Hambridge, drums and harmony vocals; Reese Wynans, keyboards; Rob McNelley, guitar; and David Roe, bass. Additional musicians include Laura Greenberg, bass; and Jamie Holmes, drums. Jones' guitar style is a combination of T-Bone Walker and Johnny "Guitar" Watson.
Jones has written a bunch of new songs. "Thank You, baby for doin' me wrong" and "Never Worth It, in the morning" are about relationships. Then there's the Chicago styled instrumental "Magic West Side Boogie". On the later two the band includes Greenberg, bass and Holmes, drums. Jones and Hambridge collaborate on "Don't Be Ashamed", "Cocaine Boy", and "What Would Jimmie Do?", about Jimmie Vaughan one of Jones' biggest influences. "Blue Jean Jacket" was co-written with both Hambridge and Richard Fleming. Being able to collaborate on songwriting is in itself a hidden talent.
"Love Times Ten", was co-written by Hambridge with Colin Linden and contains the lyric "everybody's lonesome when the sun goes down". Coming After Me" is from Hambridge and Fleming, his regular writing partner; and "If It Feels This Good Tomorrow" is from Hambridge, Al Anderson, and Gary Nicholson.
Jones also includes two great covers, Bobby Parker's "Watch Your Step" and Buddy Guy's "What's Inside of You". Jones' clear vocals are infectious throughout the recording.
Jones is a great guitarist and entertainer. I would say Jones is my favorite Canadian export.
Richard Ludmerer