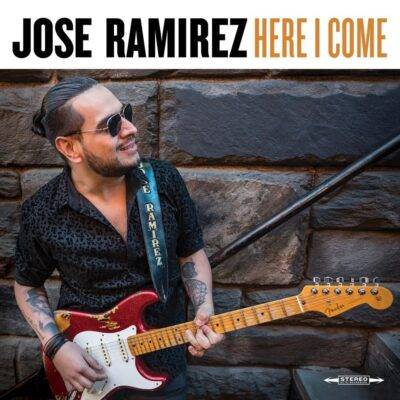 Jose Ramirez
Here I Come
Independent
At the age of thirty-two Jose Ramirez is Costa Rica's premier blues guitarist and vocalist. In 2020 he represented the D.C. Blues Society at the International Blues Challenge in Memphis and he finished second place in the band competition. He has played with Buddy Guy, Janiva Magness, Mark Hummel and Bryan Lee.
Ramirez who now makes his home in Florida has teamed up with producer/guitarist Anson Funderburgh to record his debut album. Funderburgh was the leader of Anson Funderburgh & The Rockets and has production credits including John Nemeth, The Andy T-Nick Nixon Band, and John Del Toro Richardson. They recruited an all-star band including Jim Pugh, piano and Hammond organ; Nate Rowe, bass; Wes Starr, drums; and the Kaz Kazanoff led Texas Horns. The album was recorded and mixed by Stuart Sullivan at the Wire Recording Studios in Austin, Texas. Funderburgh also guests on several tracks.
The eleven track studio recording includes nine originals written by Ramirez who is also a fine songwriter. They open with the title track "Here I Come" and one is immediately impressed with Ramirez' guitar and Robert Cray styled vocals. The hard-driving shuffle references those artists who have had a profound influence on Ramirez. Pugh is wonderful as we haven't heard him play piano like this since he left The Robert Cray Band. "The Way You Make Me Feel" and "Waiting For Your Call" are Memphis styled with Pugh switching to organ. Guitarist Funderburgh can be heard playing an Albert Collins styled lead on "Gasoline and Matches", and on the deep shuffle "Three Years".
"I Miss You Baby" is the first of two covers. Written by Freddie Simon the swinging ballad was first recorded by T-Bone Walker in the early 1950's. Throughout the recording the horn charts by Kazanoff, Al Gomez and John Mills are exceptional as they allow Ramirez to stretch out vocally and on his solos. The other cover is a new take on Robert Johnson's eighty-year-old classic "Traveling Riverside Blues".
This is an auspicious debut that immediately places Ramirez in the running as Best Emerging Artist at next year's Blues Music Awards.
Richard Ludmerer