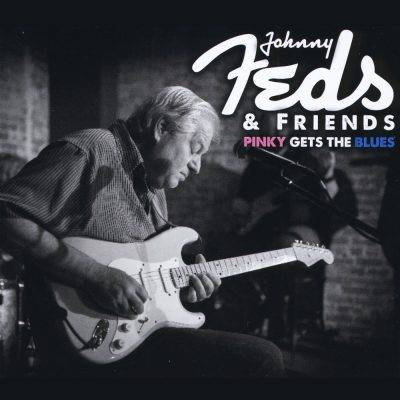 Johnny Feds & Friends
Pinky Gets The Blues
Independent
John Federico has been part of the NY/NJ blues scene for twenty years always running an open blues jam. For the last seven years he and his band Johnny Feds and the Bluez Boyz have hosted the Monday night jam at the Bayou Restaurant in Mt. Vernon. He has played with Hubert Sumlin, Joe Louis Walker, Sonny Rhodes and others. In 2015 he was inducted into the NY Blues Hall of Fame.
This album is a labor of love as Johnny has been working on it for the last four years. He met many of his friends at a jam similar to the one he now hosts. Johnny Feds and Friends include Johnny, guitars and vocals; John "Elmo" Lawson, bass and background vocals; Paul Undersinger, drums; and Fred Lind, keyboards. There are four additional vocalists: Tom "Blues Buddha" Dudley; JP Patrick, "Duchess" Diane Cricchio and Michael "Rev" Rochelle. The album was mixed and recorded by Lawson at his Elmo's Garage Studio.
Johnny's guitar playing is especially nice throughout the album. "Deacon of The Blues" is about how he "cut his teeth on the gig scene" when he first started some twenty years ago. Johnny plays a Pink Strat that he built himself and he never goes anywhere without it. Pinky even provided the title to this collection of tunes mostly written with Lawson. This song and three more are sung by the "Blues Buddha" who recorded his own album back in 2010. "Axe to Grind" is about an angry bluesman with Dave McDowell on horns and Jeremy Driesen sitting in on drums. "Fragile Heart" has lyrics by Jeanne Cashman. On "Redemption" Dudley sounds especially soulful perhaps because he works with recovering addicts.
Johnny sings through a harp mike on "Dog Gone" and on the title track featuring Chris Burke on keyboards. He also sings on "I'll Play the Blues For You" written by Jerry Beach and first recorded by Albert King in 1972. The song is recorded live at The Turning Point Café in Piermont, New York. It is re-arranged by Johnny and at the end morphs into a progression from "Born under A Bad Sign". Lind is featured on keyboards.
JP sings on "Jaime's Song: Son Goes Down". Johnny states that it is the first song he ever wrote and the story of his nephew who suffered a life of mental illness and addiction. JP is a great vocalist who also plays harp and sax but not on this album. He sings again on "Far Away Land" is about a soldier and his girl with only a picture to remind them of one another.
"Not What You Think" is a torch song written especially for Duchess Di who delivers a smoldering vocal performance. "FishStyks" is a groove written by pianist Lind with some nice bass from Lawson.
"Jaime's Song: Son Goes Down" is reprised and serves as the closer. This version is angrier and Johnny and Lawson add Undersinger and Lind as co-writers.
Johnny Feds knows what it takes to be a bandleader. He tells me he's already working on another album. Better give him a listen.
Richard Ludmerer
[amazon_link asins='B078P9H4Q4,B078PDRW5D,B078PB4HTS,B078P9TX79,B078P9DDLB,B078P9G76V,B078P9C8RV,B078P94P11′ template='ProductCarousel' store='maasc-20′ marketplace='US' link_id="]