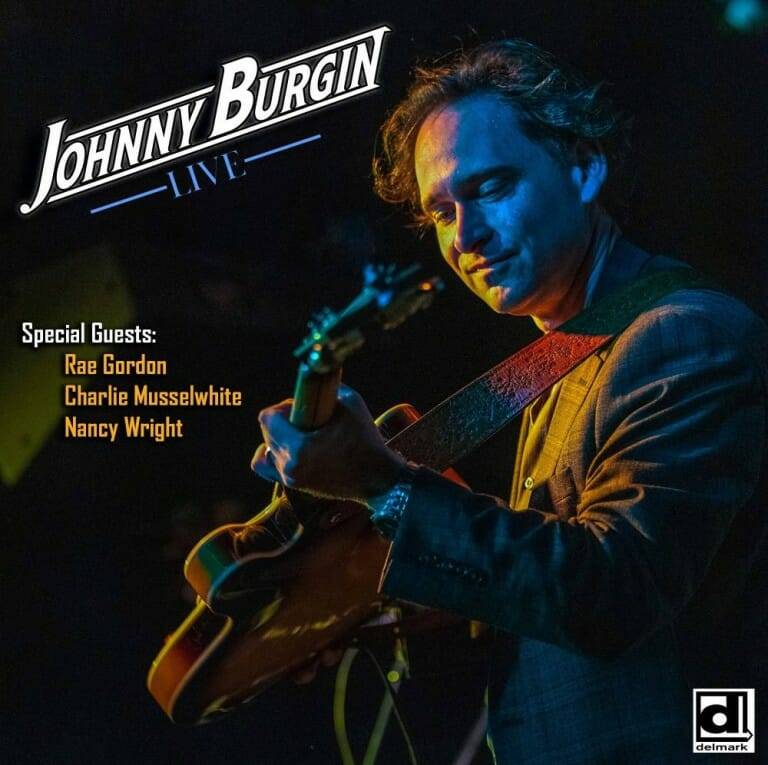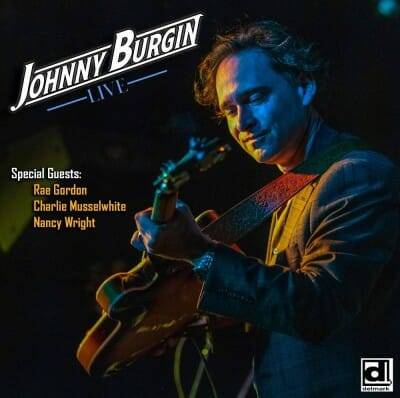 Johnny Burgin
Live
Delmark Records
Johnny Burgin attended The University of Chicago to study writing but soon fell into the Chicago Blues Scene. The guitarists first professional gig was backing the Chicago blues vocalist Taildragger. He later toured with both Pinetop Perkins and Sam Lay. He also worked with Eddie C. Campbell, Jimmy Dawkins, Eddie Shaw, Little Arthur Duncan, Jimmy Burns, and Eddy Clearwater among others. Burgin a.k.a. Rockin' Johnny has six previous recordings with the Delmark Records label. After living in Chicago for twenty-eight years Burgin left for the West Coast where he recorded 2015's "Greetings From Greaseland"; 2017's "Neoprene Fedora"; and earlier this year "Dos Hombres Wanted" with harpist Quique Gomez. This album is his Delmark homecoming.
The band on this set includes Burgin, guitar and vocals; Aki Kumar, harmonica and percussion; Kid Andersen, guitar and piano; and Burgin's touring band, his rhythm section, of Chris Matheos, bass; and Steve Dougherty, drums. Special guests include vocalist Rae Gordon, harp master Charlie Musselwhite, and saxophonist Nancy Wright. It was recorded in January, 2019 at California's Redwood Café by Andersen and Bobby Yamilov of Greaseland Studios. The album was produced by Burgin and Stephanie Tice; and mastered by Delmark's Steve Wagner at their Riverside Studio in Chicago.
Included are ten Burgin originals and four covers. "You're My Trinket" features the stripped down trio of Burgin, bassist Matheos and drummer Dougherty; while on "Can't Make It Blues" with Burgin's low down vocal, and on "She Gave Me The Slip" they are joined by Andersen. These are fabulous songs.
"You Got To Make A Change" features Kumar on harp, and Andersen joining Burgin on guitar as he sings "you can't go out every night or you won't get along with me". Kumar is featured again on Earl Hooker's smokin' instrumental "The Leading Brand".
Rae Gordon won five Muddy Awards from Portland's Cascade Blues Association including three for Best Female Vocalist placing her in their Hall of Fame. In 2017 the CBA sent her to Memphis to compete in The International Blues Challenge where she and her band finished third.  We first get to hear Gordon in duet with Burgin on Robert Lockwood Jr.'s "I Got To Find Me A Woman" with saxophone from Wright and the results are marvelous. Gordon takes the lead on the next two songs "Late Night, Date Night" with Andersen switching to piano, and Burgin soloing on guitar; and on "You Took The Bait" with Wright's sexual sax and a solo from Andersen. She shares another fabulous duet with Burgin on "Daddy's Got The Personal Touch" with Wright's sax and Dougherty's big beats.
"Louisiana Walk", from Lindy Lou Adams, is another instrumental from this fabulous band. Harmonica master Charlie Musselwhite, winner of thirty-one Blues Music Awards, is featured on Jimmy Rogers' "Blues Falling"; on "California Blues" with Burgin's guitar and narrative and Andersen again on piano; and on "When The Bluesman Comes To Town".
"Jody's Jazz" is a fabulous instrumental written by Burgin featuring the band and it closes out this fine album. Burgin is guitarist, vocalist, songwriter and bandleader on this outstanding live set.
Richard Ludmerer