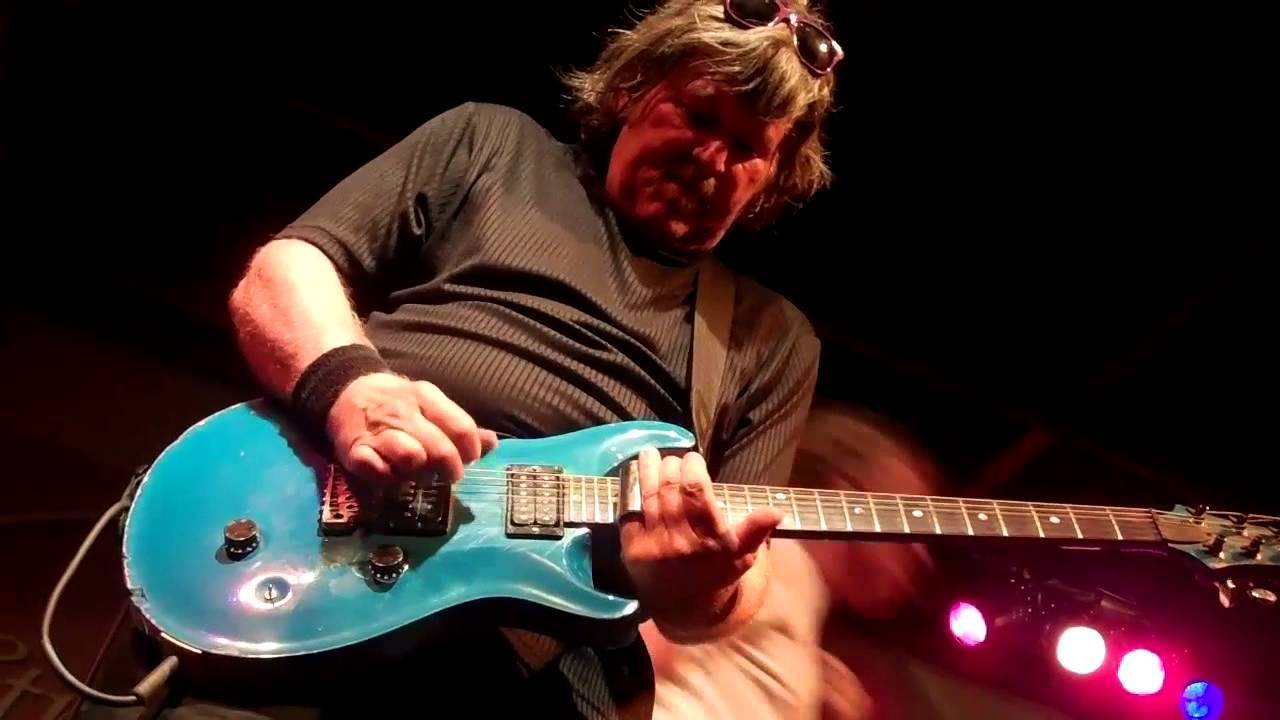 ---
---
---
---
---
---
---
---
Making a Scene Presents an Interview with Jock Bartley of Firefall!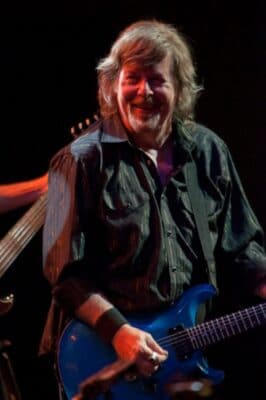 JOCK BARTLEY is known for his melodic, tasteful and fiery lead guitar style – his playing has influenced many rock & roll and country rock guitarists who have come in later generations.
Born in Hutchinson, Kansas, Jock moved to the mountains above Manitou Spgs., Colo. in 1959. AT nine years old he began taking guitar lessons from the jazz guitar legend, JOHNNY SMITH, in Colo. Spgs in 1960, calling his five year relationship with his teacher/mentor, "about the best thing that ever happened to me." He was playing Bach and Duke Ellington by the age of 11 and 12, but then in 1964 The Beatles played on Ed Sullivan and changed the world. "That's when I knew I wanted to be in a rock band." And when a few years later, hearing recordings of Eric Clapton and B.B. King, his musical focus sharpened. After graduating high school, where he'd been an Honor Roll student and top scorer on the basketball team, Jock attended the University of Colorado in Boulder as an art major. "When I had to finally decide what I was going to do with my life – art, music, writing, drama – it was quite an easy decision. Playing guitar was the single best thing I did, and most fun."
Leaving college to pursue music, he joined the Boulder-based band ZEPHYR, replacing Tommy Bolin as lead guitarist (who joined the James Gang and later, Deep Purple before his untimely death in 1977). Months after the Zephyr "Sunset Ride" album came out, the band broke up. In 1972, Jock was asked to join the touring band of GRAM PARSONS & THE FALLEN ANGELS, featuring EMMY LOU HARRIS. Gram had joined the BYRDS on the groud breaking "Sweetheart of the Radio" album, later formed THE FLYING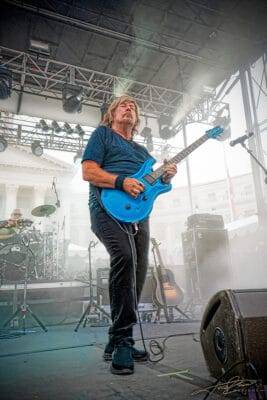 BURRITO BRO with CHRIS HILLMAN and was a pioneer of the new musical genre, "country rock." The Fallen Angels tour made many memorable stops from Texas to Boston, including a show in Houston where Neil Young and Linda Rondstadt sat-in onstage (Emmy Lou and Linda met that night and sang together for the first time). At Max's Kansas City in New York City, Jock met Boulder resident, Rick Roberts, who'd replaced Gram in the Burrito Bros and had two solo albums out.
In 1974, Rick and Jock began jamming in Boulder with MARK ANDES, bassist from the progressive L.A. bands, SPIRIT and JO JO GUNNE. When LARRY BURNETT arrived from Washington D.C., FIREFALL was formed. A few months in, drummer MICHAEL CLARKE (formerly of the Byrds and Flying Burrito Bros) joined the band and FIREFALL played in Boulder and Aspen, perfecting the songs and sound! Rick, Mark and Jock were on tour with Chris Hillman on the east coast when Chris became ill – Larry and Michael were flown in and FIREFALL finished the engagement at the Bitter End in NYC, where Atlantic Records came to hear, soon signing them to a long-term recording contract. DAVID MUSE joined the band in rehearsals with producer, JIM MASON. Firefall recorded their first album at Criteria Studios in Miami, FL in the winter of 1975, during which his guitar hero, ERIC CLAPTON, was in the control room while Jock played the 'one-take' lead guitar track on 'Mexico'. Jock laughs remembering, "It was a good thing I didn't know he was watching, I wouldn't have been able to hold my pick or play one note."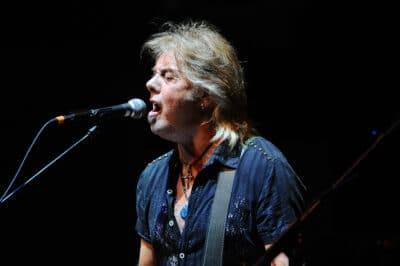 JOCK BARTLEY has jammed on stage with artists including Stephen Stills, Neil Young, The Doobie Bros, Dan Folgelberg, Journey, Heart, Poco, Nicolette Larson, John Mayall & the Bluesbreakers and many many others. He is a spokesperson for Suicide Prevention because of his song, 'Call On Me' and worked with the American Association of Suicidology and the Kristin Brooks Hope Center to put on benefit concerts to raise awareness, help fund the first national crisis line, (800) SUICIDE) and save lives. During his first 'Suicide Prevention' benefit at the Bluebird in Nashville in 1998 – with headliners Michael McDonald, David Pack (of Ambrosia) and Victoria Shaw, Steve Winwood was in the audience and got up to play 'Can't Find My Way Home' (Blind Faith) and 'Gimme Some Loving' (Spencer David Group). "That was one of the most joyous moments of my career, playing 'Gimme Some Lovin' with Steve Winwood, Michael McDonald and David Pack – wow!!" Jock also has been involved with 'causes' including child abuse, domestic violence, burn victims camps, environmental issues and others. He is a record producer, travels frequently to Nashville to write songs and give seminars on creativity and songwriting for the Nashville Songwriters Ass. and the Songwriter's Guild. Jock endorses Paul Reed Smith Guitars and Takamine Guitars. His son Jamey, 42, is a drummer, photographer, graphic designer and videographer, having created the video for Firefall's newest single, 'WAY BACK WHEN'. His daughter, Jessica, 20, is finished Grad School at Florida International University as a Physicist and 'Brain-Imaging' specialist. Both are accomplished fine artists. Years ago Jock produced his acclaimed instructional songwriting video called 'The Complete Guide To Songwriting – How To Write A Song."
Jock has been a painter and fine artist since childhood but only since 2000, has he gotten serious about his 'new' art career. His colorful paintings and pastels, in a wide variety of subjects, have received wide critical and public acclaim. His work has been exhibited in art galleries in Denver and Vail, Colorado and Reno, Nevada with more to come. His art has been included in a number of shows featuring 'Rock & Roll artists,' with his paintings hanging next to art by Ron Wood (Rolling Stones), Grace Slick (Jefferson Airplane & Jefferson Starship), John Entwhistle (The Who) and lithographs by Beatle John Lennon. In 2006, four of his Beatles paintings appeared in a nationally released coffee table book, "Beatles Art – Fanastic New Artwork of The Fab Four." The publishers gave him the huge honor of writing the 'Foreword' to this book about 'The Best Band Ever'!! Jock's paintings and prints were also included in a Denver Children's Hospital benefit "Rockers For Kids" featuring art by Paul McCartney, Ringo Starr, John Mellencamp, Jerry Garcia, David Bowie, Ron Wood, Grace Slick, Janis Joplin, R. Crumb and others. He says, "'I've always loved having a number of different creative outlets, especially MUSIC and FINE ART. ..With music, the energy and spontaneity is fantastic and so immediate – it's THERE and then it's GONE. With painting, drawing or pastels, the 'muse' and possibly inspiration often comes the same place deep inside, but the energy is so much slower and deliberate. I'm very lucky and fortunate to have such creative outlets; they help keep me sane and 'in touch' with who I am deep down."
Find our Podcasts on these outlets
Help Support Making a Scene
Your Support helps us pay for our server and allows us to continue to bring you the best coverage for the Indie Artists and the fans that Love them!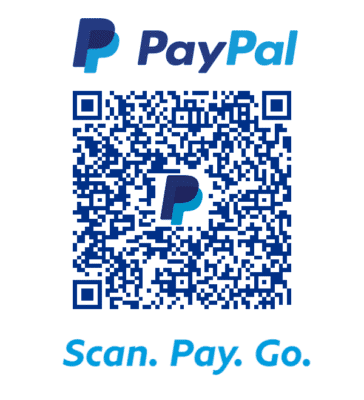 FOLLOW US ON INSTAGRAM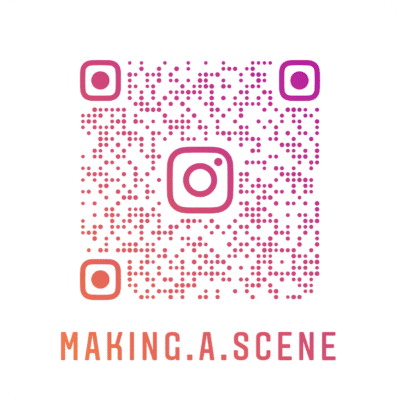 Subscribe to Our Newsletter