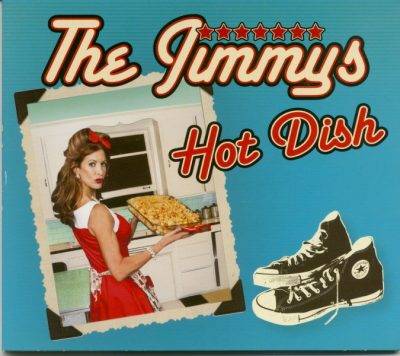 The Jimmys
Hot Dish
Brown Cow Productions
The Jimmys are a seven piece R n' B and jump blues band from Wisconsin. The band was formed in 2008 by Jimmy Voegeli. By day Voegeli works on his family's fifth-generation dairy farm with 200 Brown Swiss dairy cows. At night Voegeli is an award winning musician having won the Madison area "Keyboardist of the Year" award (MAMA) in 2010, 2012, and 2015; and the same award in 2011 and 2015 from The Wisconsin Area Music Industry (WAMI). He played 18 years with the Grammy nominated Westside Andy and Mel Ford band and has been on stage with Pinetop Perkins, Rusty Zinn, Tab Benoit, James Solberg, Shirley King, E.C. Scott, and Clyde Stubblefield with whom he also recorded.
The Jimmys first studio recording was 2011's "Gimme" which featured guest artists including Dan Baird from The Georgia Satellites, and guitarist Billy Flynn; the liner notes were written by Bryan Lee. "HaDaYa Do That Thing Live" followed in 2013.
Currently The Jimmys consist of Voegeli, piano, organ, and vocals; Perry Weber who has played with Hubert Sumlin and with his own band Perry Weber and The DeVilles, guitar; Mauro Magellan from The Georgia Satellites, drums; Johnny Wartenweiler, the 2014 MAMA "Bassist of The Year", electric and Stand Up bass; and a fabulous horn section. The Amateur Horn Stars include Peterson Ross who has played with The Glenn Miller Orchestra, tenor and alto saxophones, and clarinet; Darren Sterud who has played with Davina and The Vagabonds, trombone and trumpet; and Mike Boman, trumpet. All three of the horn players were also members of The Clyde Stubblefield Band. The Jimmys won a 2012 WAMI for "Best Swing/Big Band Ensemble" and a 2015 MAMA as "Blues Performer of The Year".
"Hot Dish" is only their second studio recording and it was released in September of 2015. It is produced by Voegeli, Weber and Magellan.
Voegeli is a prolific songwriter. The opener "Lose That Woman" is a rhumba featuring Voegeli's piano and vocal. Most notable however is the horns that make you want to get up and dance. I am reminded of "Roomful of Blues" as these guys are no amateurs. "I Wonder" written and sung by Voegeli is another hot tune with a retro sound as Boman takes an extended trumpet solo. "Funk Schway" is a shuffle with Ross featured on sax.
"Jacqui Juice" is a well written funky instrumental with great piano and organ from Voegeli. "Saddest Man" is a touching vocal from Voegeli and another great horn arrangement.
The Jimmys have songwriting talent to spare as "You Say You Will" was written by Weber who also sings lead. Voegeli stands out on piano. "What Gives" also by Weber features him with a fabulous guitar intro. "What My Baby Wants" features Ross on the clarinet.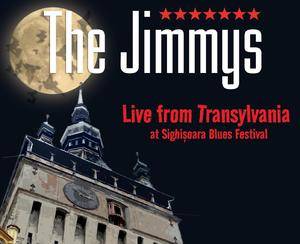 The Jimmys
Live From Transylvania
Brown Cow Productions
While on tour in March of 2015 the band traveled to Romania. This live set was recorded at Sighisoara Blues Festival. The ten song set includes four songs from "Hot Dish" while two songs, "Hell or Heaven" and "Love Will Find A Way" are reprised from their first album "Gimme".
"You Can't Hurt Me Anymore" was written by harp ace Jim Liban and learned by Weber when he was a member of The Jim Liban Blues Trio. "Cold Women" also known as "Cold Women with Warm Hearts" was written by Mack Rice and first recorded by Albert King in 1976. "Lonesome Whistle Blues" is from songwriter Rudy Toombs; it was recorded by Freddie King in 1961. These are sung by Weber.
The closer is "Ophelia" written by Robbie Robertson and recorded by The Band. It appears on The Band's 1975 album "Northern Lights – Southern Cross". Voegeli is featured on piano while Magellan takes an extended drum solo.
Voegeli states that Candye Kane played the festival the night before The Jimmys appearance and even though she was under duress from her cancer treatments she was wonderful. "Live From Transylvania" is dedicated to the memory of Candye Kane "her contribution to blues and the human spirit".
The Jimmys are the best new horn based blues band I've heard in quite some time. They are young, exciting and extremely talented. Both of these albums are recommended.
Richard Ludmerer