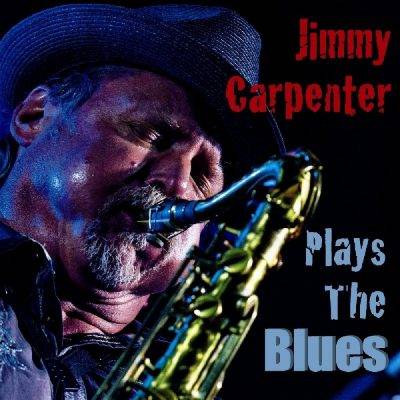 Jimmy Carpenter
Plays The Blues
Vizztone Label Group
Saxophonist Jimmy Carpenter began playing professionally in 1980. He toured with both Tinsley Ellis and Jimmy Thackery. In 2004 Carpenter played on "Whiskey Store Live" with Thackery and Tab Benoit. He settled in New Orleans shortly thereafter and found work with Walter "Wolfman" Washington and Eric Lindell. Carpenter released his solo debut "Toiling in Obscurity" in 2008.
In 2012 Carpenter joined Mike Zito and The Wheel and he appears on 2013's "Gone to Texas"; 2014's "Songs from the Road" and 2015's "Keep Coming Back". In 2014 Carpenter also released his second solo album "Walk Away". Carpenter received Blues Music Award nominations for Best Instrumentalist – Horn in both 2014 and 2015.
This is Carpenter's third studio album and first all blues recording aptly titled "Plays the Blues". The band includes Carpenter, sax and vocals; Zito, guitar and vocals; Marc Adams, piano and organ; Bob Bridges, bass; and Matthew Johnson, drums. The album is produced by Zito.
Carpenter opens with "You Belong to Me" written and recorded by Magic Sam on his album "Black Magic" first released in 1969. Tony Ditendoro guests on guitar. Carpenter has a good voice and wails on sax. Bridges bass sounds good too.
"Too Late" is from Willie Dixon; Lewis Stephens is featured on organ while Dave Keyes sits in on piano. This is another infectious vocal from Carpenter.
The smokin' title track "Jimmy Plays The Blues" is an original lounge like instrumental that really showcases Carpenter's talents. This should receive a considerable amount of airplay.
"Kid in My Head" is another original reminiscent of "Six Days on The Road". This time it's Stephens on piano. "Blues With a Feeling" is from Little Walter. John Del Toro Richardson guests on guitar.
The instrumental "Surf Monkey" from Freddie King and Sonny Thompson includes Carpenter's old friend Ellis on guitar and he takes a tasty solo. Carpenter's sax is just great. "Change is Gonna Come" is the Sam Cooke classic played as another instrumental with Anders Osborne on guitar.
Otis Rush's "All Your Love (I Miss Lovin')" follows and it's another good vocal. The instrumental "Preach" is from King Curtis.
The closer is Junior Walker's "Shotgun" and it's so good you'll think Walker rose from the dead.
Carpenter has been long overdue in making this album and we have to thank Zito for encouraging him. Carpenter should be more prolific as he possesses the one thing that eludes most of us. He's a natural.
Richard Ludmerer
[amazon_link asins='B0747T3BDN,B00LBF4HKW,B001PA0IQA,B00MZO20PM,B073XTQYW3,B073XWBDJY' template='ProductCarousel' store='maasc-20′ marketplace='US' link_id='670de572-9bfb-11e7-a9e7-d9de89274e3c']