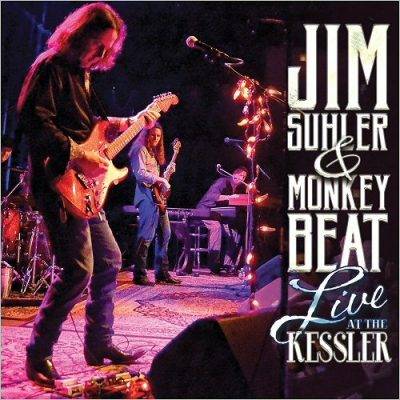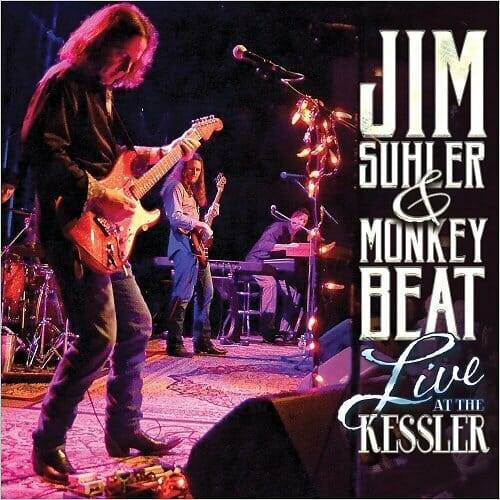 Jim Suhler & Monkey Beat
Live at The Kessler
Underworld Indie Records
Jim Suhler is a Texas Blues guitarist who was born and raised in the Dallas area where he still resides. He was exposed to bands coming out of The British Invasion, Southern Rock bands and those Texas guitarists like Bugs Henderson, Stevie Ray Vaughan, Jimmie Vaughan, and Anson Funderburgh.
In 1991 Suhler formed "Monkey Beat" and recorded two albums for George Thorogood and The Destroyers' producer Terry Manning. In 1993 Monkey Beat wound up opening for Thorogood. Suhler eventually became a full time member of The Destroyers in 1999 and he still plays and tours with them. Jim Suhler and Monkey Beat's last studio recording 2009's "Tijuana Bible" was co-produced by Suhler and Tom Hambridge. As a result the band received a 2010 Blues Music Award nomination as Rock Blues Album of The Year.
Monkey Beat consists of Suhler, guitar and vocals; Chris Alexander, bass and vocals; Shawn Phares, keyboards; and Beau Chadwell, drums and percussion. "Monkey Beat" has now been together for over twenty-five years. This live set was recorded in Dallas on November 28th, 2015 and it includes songs reprised from their studio albums.
From their 2001 "Bad Juju" recording are "Deja Blue" featuring Tim Alexander on accordion; "Scattergun" and "Prayin' for Rain". "My Morning Prayer" is from their 2002 acoustic "Dirt Road".
"Sunday Drunk"; "Devil in Me"; "Po Lightnin" (their tribute to Lightnin' Hopkins) and the title track "Tijuana Bible" are from their 2009 BMA nominated album.
Suhler's last album was recorded under his own name. From 2014's "Panther Burn" are that albums title track; "Across The Brazos" featuring Chadwell on drums; "I Declare" with great piano from Phares, and "Texassippi".
There are also two new songs "Doin' the Best I Can", with nice slide guitar from Suhler, and "Reverie".
All of this would be redundant if it weren't for the fact that this live blues rockin' set will leave you jumpin' up and down and hollerin' for more. Monkey Beat closes with "Restless Soul" also from "Bad Juju" and the song morphs into Canned Heat's "Bullfrog Blues".
Suhler's slide and vocals are fabulous throughout the recording as Alexander, Chadwell, and Phares help light it up. This just might be another contender for blues rock album of the year. Where are these guys when Suhler's not on the road with George?
Richard Ludmerer
For Tour Information got to his HOME PAGE