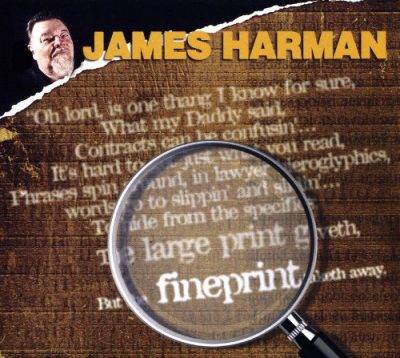 James Harman
Fineprint
Electro-Fi
James Harman has played harmonica with Muddy Waters, John Lee Hooker, B.B. King, Albert King, Albert Collins and numerous other blues icons. His debut recording was released in 1987 but his most important work was four albums for the Black Top Record label including 1995's "Black and White". In 2013 Harman won two Blues Music Awards for his participation in "Remembering Little Walter" a tribute album on Blind Pig Records. Harman's 2015 Electro-Fi release "Bonetime" resulted in him receiving five additional BMA nominations giving him a total of seventeen nominations overall.
"Fineprint" is a compilation of new and previously recorded tracks especially chosen by Harman. All harp and vocals are performed by Harman. The album is co-produced by Harman and Nathan James.
Five of the songs were recorded at the Peace in the Valley Recorders in Arleta, California and engineered by the late Jerry Hall. The title track is a tribute to John Lee Hooker and offers fatherly advice on the use of legal verbiage in recording and performance contracts. Nathan James is featured on guitar while the drummer and percussionist Alan West bangs a mallet on a wooden tool box. Both "In With The Grief (in with the gravy)" and "At The Flophouse" feature Gene Taylor on piano. "Come On and Dance With Me" is inspired by a fishing trip to Mexico; Jeff Turmes plays bass and electric guitar, James plays a resonator guitar, Mike Tempo, drums; and percussionist West, a Djembe, or goblet shaped drum. "Slam on the Brakes" features Kid Ramos on slide; Tom Mahon, piano; Stephen Hodges, drums, and Tempo, percussion.
Seven more tracks were recorded at the Sacred Cat Studio in Oceanside, California, including "Memory Foam Mattress" inspired by a television commercial; and two different versions of "What 'Cha Gonna Do 'bout Me". Version #1 features Sonny Leyland on piano with a New Orleans second line beat. Version#2 features The Bamboo Porch Regulars: James on guitar; Troy Sandow, bass; Marty Dodson, drums and Tempo, congas; they play again on three more songs including my favorite "A Ticket To The Circus". The fabulous Leyland plays again on "Familiarity Breeds Contempt, but Absence Makes The Heart Grow Fonder".
Harman's vocal clarity adds to his soulful presentation. "A Busy Man (When This World Turns It's Back On You)" is beautifully sung. It was recorded at "the old long gone Westworld Studio in Van Nuys, California".
Once again we have to thank Electro-Fi as it's impossible to have too much music from Harman. He is as good as it gets.
Richard Ludmerer
[amazon_link asins='B078XX3SMM,B00STKR3VC,B078Y34P79,B000S5DZP4,B00BX8U0EO,B00001QGVX,B000005YX5′ template='ProductCarousel' store='maasc-20′ marketplace='US' link_id='88ac8fa0-3423-11e8-9216-eb918cbe9179′]