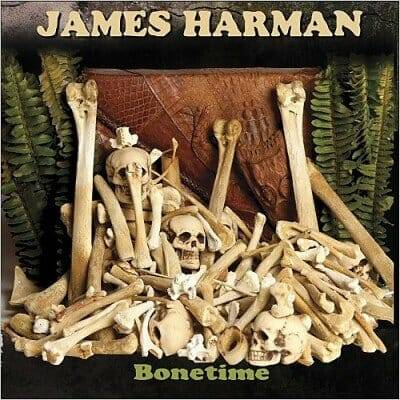 James Harman
Bonetime
Electro-Fi
James Harman, harp and vocals, has had an illustrious career having backed up Big Joe Turner, John Lee Hooker, Freddie King, Muddy Waters, B.B. King, Albert King, T-Bone Walker, Lowell Fulsom, Eddie "Cleanhead" Vinson, Johnny "Guitar" Watson" and Albert Collins among others. Harman's first album was released in 1987 however his most important work were four albums for the Black Top Record label including 1995's "Black and White". In 2000 he released "Mo' Napkins Please" on Cannonball Records. His last recording was 2003's "Lonesome Moon Trance" on the Pacific Blues imprint.
"Bonetime" is James Harman's twelfth album and first for Electro-Fi. This compilation includes twelve previously unreleased tracks especially chosen by him for this project. Harman calls himself the King of Bones as many of the musicians he has worked with are gone. However these relics live on as do many of the great players contributing to this project.
The song "Bonetime" which opens the album features guitarists Junior Watson and Kirk Fletcher and the rhythm section of Buddy Clark, bass; and Alan West, drums. "I Am The World's Bad Luckiest Man" features that rhythm section but with Gene Taylor, piano, and Nathan James, guitar. Harman's harp and clear vocals often times remind me of Kim Wilson.
"Ain't It Crazy" features guitarists Fletcher and Jeff Turmes who later worked with Janiva Magness. "Big Boned Gal" features guitarist Kid Ramos. "Bad Feets/Bad Hair" features Fletcher, Turmes, Taylor, Clark, and West. Turmes is overdubbed playing multiple saxes and the background vocalists include a young Candye Kane.
Harman has twelve Blues Music Award nominations and won twice last year for his part on the "Remembering Little Walter" cd. Harman is now sixty-eight years young and he still tours. There are many stories I'm sure that he could tell. We have to thank Electro-Fi for releasing this as you can never have too much music from James Harman. I hope that there is much more that follows. There's still life in them bones.
Richard Ludmerer