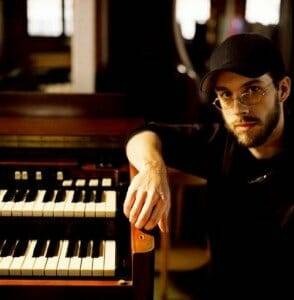 An Interview With Organist Extraordinaire John Ginty
Hammond B-3 organist John Ginty's recent album release Bad New Travels (American Showplace Music) has received critical acclaim and has charted highly on Roots Music Report, among others. John has toured and recorded with artists such as Jewel, Citizen Cope, Santana, Dixie Chicks, Matthew Sweet, Court Yard Hounds, and Bad Religion, to name a few. The New Jersey native is an original member of Robert Randolph and the Family Band, for which he received two Grammy Nominations; as well as a Gospel Music Award for Urban Album of the year in 2003. That same year, Ginty appeared on the Blind Boys of Alabama's Grammy Award winner Higher Ground. Over the years John has been a frequent guest, sitting in with the Allman Brothers at their yearly Beacon Theatre concert series. Ginty's discography spans over a decade and a half, and demonstrates his eclectic influences and unique sounds on the keys.
Ginty, currently on a solo tour of the South, recently took time to chat with Making A Scene. Here's how it went.
MAS: Why did you take up the Hammond B-3 organ as your instrument of choice?
JG: I joined a Southern rock cover band right after high school. We were playing gigs at the Wetlands in NYC, and getting pretty popular. The guitarist in the band convinced me that in order to do this right, I need to get a Hammond organ. We found a used one in a music store and he bought it for me. I took it to rehearsal, and it was love at first play.
MAS: Let's discuss this current mini-tour you're on. How did that come to pass?
JG: Well, I was really surprised at the positive reactions I was getting on blues radio formats for my new record "Bad News Travels". I really wanted to test the waters, and see how we could do playing live shows. Does the music business still work? Can you make a great record, get it on the radio, and sell tickets to the show?? I don't know, but there's only one way to find out. I hope it goes well so we can do more.
MAS: The John Ginty touring and recording resume' reads like a Who's-Who of the music industry (Santana, Dixie Chicks, Bad Religion, Jewel). Which of these holds the most vivid memories?
JG: I will always have fond memories of playing with Jewel from '97 to 2000. It was my first big gig, and the music business was still healthy, so those were great times. I got to do Saturday Night Live, MTV Unplugged, and the very first Lilith Fair Tour celebrating women in music.
MAS: Your latest album "Bad News Travels" has captured the fancy of, and climbed, both the Blues and Roots charts. What overall sound were you shooting for when you went into the studio?
JG: My playing has always been rooted in the blues, so we really wanted to do a blues-based record featuring the Hammond B-3 as the lead instrument. I had a bunch of songs I had written that seemed to have a common thread to them, and with a couple of tweaks by producer Ben Elliott, they came together to make a nice record.
MAS: According to your press release, you just came off the road from touring with the Dixie Chicks, who themselves are no strangers to controversy. What was that experience like?
JG: One of the best jobs I've ever had in music. The Chicks absolutely rock. I wasn't sure I would love their music going into it, I was never really a fan of country music, but it turns out the catalog of songs they have is really deep, and super fun to play. Feeling the audience react to the first notes of "Not Ready To Make Nice" every night is an amazing moment.
MAS: What's the future hold for John Ginty – i.e. new album, touring, etc.?
JG: I'm going to record a follow up this year, and hope to be touring more with my band. I also will keep playing as a session guy, I love playing on records, touring, and working in the studio.
MAS: Where can people go to find out more about your music, etc?
JG: You can go to www.johngintymusic.com, I have all my tour dates with my band and others I'm working with. There are CD's and t-shirts for sale too! I'm also on Facebook at https://www.facebook.com/johngintymusic.