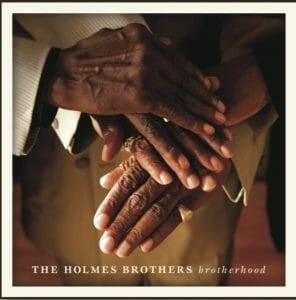 The Holmes Brothers
Brotherhood
Alligator Records
Wendell Holmes, guitar, and his brother Sherman, bass, met Popsy Dixon one night in New York City when he sat in on drums. They formed The Holmes Brothers band in 1979 and began as an opening act at music clubs like Dan Lynch's and The Bottom Line. In 1990 they released their first recording on Rounder Records.
The Holmes Brothers signed with Alligator Records in 2001. "Simple Truths" their second album for Alligator helped them receive four Blues Music Award nominations and the 2004 "Blues Band of The Year" award. 2007's "State of Grace" won them another award as "Soul Blues Album of The Year". Their last album 2010's "Feed My Soul" resulted in two more nominations. Their music is a mixture of folk, rhythm and blues, soul, and country with gospel harmonies.
"Brotherhood" contains six new songs written by Wendell Holmes. The album opens with "Stayed at the Party too Long", perhaps a sort of rockin' confessional as Wendell is a cancer survivor. "Loving You From Afar" is a gorgeous duet with his daughter Felicia.
"Passing Through" and "Last Man Standing" were written by Sherman Holmes. The Holmes Brothers songs tell their story; their soulful vocals are both uplifting and inspiring.
Guest musicians include Glenn Patscha, keyboards, and Chris Bruce, guitars. They are also co-producers along with Hector Castillo. The executive producer is Paul Kahn. Background singers include Catherine Russell.
Covers include Ted Hawkins's "I Gave Up All I Had"; Ike Turner's "You've Got to Lose"; Geraint Watkins's "Soldier of Love", William Bell and Booker T Jones' "My Kind of Girl", the Curtis Salgado/David Duncan/Kevin McKendree "Drivin' in the Driven Rain" and the traditional "Amazing Grace" featuring Dixon's falsetto.
Each of the Holmes Brothers recordings can touch your soul and this one is no exception. They have a god given gift. Surely they are heaven sent. Better seek this one out.
Richard Ludmerer