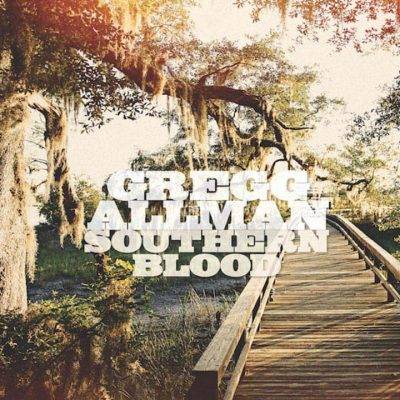 Gregg Allman
Southern Blood
Rounder Records
Gregg Allman had some serious health issues. He was diagnosed with hepatitis C in 2007. He had a successful liver transplant in 2010. Allman who at the time had six previous solo recordings achieved even greater success with the Grammy nominated "Low Country Blues" released in 2011.
When Allman began working on "Southern Blood" his cancer had already returned. He decided to record what would be his final album at the famous FAME studios in Muscle Shoals Alabama where he and his brother Duane first developed the sound that would become The Allman Brothers Band.
Allman invited his band members to join him in Muscle Shoals and Allman and Executive Producer Michael Lehman chose the Grammy winning Don Was to produce the album. The Gregg Allman Band includes Gregg, guitars, B-3 and vocals; Steve Potts, drums; Ronald Johnson, bass; musical director Scott Sharrard, guitar; Peter Levin, keyboards; Mark Quinones, percussion; and Jay Collins, sax, flute and horn arrangements. Special guests include Marc Franklin, trumpet; Art Edmaiston, sax; Greg Liesz, pedal steel; and background vocalists Buddy Miller and The McCrary Sisters.
The only Allman original, co-written with Sharrard, is the opener "My Only True Friend" with the lyric "you and I both know, this river will surely flow to an end, keep me in your heart…but you and I both know, the road is my only true friend". Sharrard is featured on guitar; Allman's vocal is as strong as ever, as Franklin's muted trumpet in the background completes the production.
Selected covers help to further define Allman's feelings. Included are Tim Buckley's "Once I Was" with Allman on an acoustic guitar "once I was a lover and I gazed behind your eyes for you…sometimes I wonder, just for awhile, do you ever remember me". Collins takes a beautiful sax solo.
A Bob Dylan song "I just reached a place where the willow don't bend, I just reached the top of the end, I'm Going, Going, Gone". Leisz is featured on pedal steel.
Other songs selected are The Grateful Dead's "Black Muddy River"; Willie Dixon's "I Love the Life I Live"; Lowell George's "Willin"; Jack Avery's "Blind Bats and Swamp Rats"; the Spooner Oldham/Dan Penn "Out of Left Field"; and Sharrard's "Love Like Kerosene".
The closer is Jackson Browne's "Song For Adam", with Browne sitting in, but this time sung for Duanne whose premature passing helped to shape Gregg's life.
The accompanying DVD "Back to The Swamp: The Making of Southern Blood" features interviews with producer Was and musical director Sharrard.
Allman died on May 27th, 2017. This landmark recording frames Allman as he truly was, a laidback southern gentleman.
Richard Ludmerer
[amazon_link asins='B074HYF8M6,B004AHNIGM,B000001FM4,B013R5F8J2,B00XVHJWYO,B00IK7NC9G,0062112058,B01BLC0J56,B000W1XZ5E,B000WTXCZO,B000W237RE,B00DDBB82C,B00028HBT8,B000W24UX4,B000003CM8,B00138J2OS,B000003CMA' template='ProductCarousel' store='maasc-20′ marketplace='US' link_id='cdd5462b-a3f9-11e7-9c2a-9568faa47d24′]