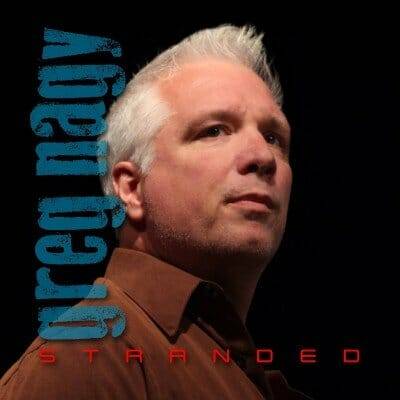 Greg Nagy
Stranded
Big O Records
Greg Nagy is the former lead guitarist for the blues and soul band "Root Doctor". Their 2008 recording "Change Our Ways" received a Blues Music Award nomination as Best Soul Blues Album.
In 2009 Nagy released the first album under his own name. "Walk That Fine Thin Line" helped Nagy receive his own nomination as Best New Artist. His follow up recording "Fell Toward None" also received accolades. "Stranded" is only Nagy's third studio album.
The band on this recording includes Nagy, guitar and lead vocals; Jim Alfredson, also from "Root Doctor", keyboards; Joseph Veloz or Jim Shaneberger, bass; Scott Veenstra or Karl Schantz, drums; and Bill Vits, percussion. Background vocalists include Marcia Allen and Jen Sygit.
After twenty-five years of marriage Nagy is recently divorced. Nagy went through some dark times but remains resilient. Therefore this album may be the most passionate of his career. The album opens with the title track "Stranded". "I'm stranded in a sea of tears on an isle of broken hearts, stranded with nothing to show for this life you tore apart".
"Walk Out That Door" was written by Nagy's co-producer Alfredson. Nagy's vocal intonation reminds me of Boz Scaggs. Alfredson's organ highlights this emotional track. "Things will never be the same anymore we don't have to play the game anymore". Glen Giordano sits in on drums.
The album's only cover is Bobby "Blue" Bland's "Ain't No Love in The Heart of The City". Drummer Veenstra' lays down the foundation for this fabulous re-working which includes a passion infused guitar solo from Nagy.
Producers Nagy and Alfredson have co-written "I Won't Give Up" with the lyric "a wounded heart is often slow, to finally let an old love go". Also from them are "Run Away With You", and "Sometimes" with Zach Zunis, of The Janiva Magness Band, added on guitar. On the later "sometime it hits you in the back of the head".
The funky "Been Such A Long Time" was written by Nagy, Alfredson, Veenstra and Veloz. "Still Doing Fine" is from Nagy, Vennstra, and Veloz. "Long Way to Memphis" is from Nagy, bassist Shaneberger, and drummer Schantz.
The closing track "Welcome Home" is from pianist Kevin McKendree of The Delbert McClinton Band. Alfredson is featured on piano.
Nagy's soulful voice helps turn pain into promise. This album is chocked full of sensitive performances. This is highly recommended listening.
Richard Ludmerer