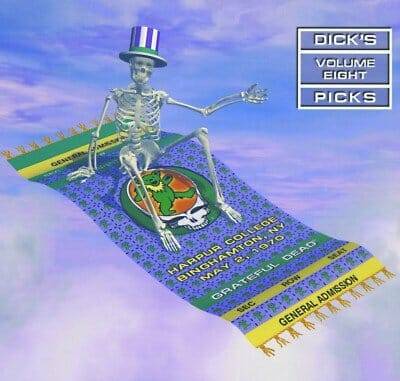 Grateful Dead "Dick's Picks Volume Eight" Harpur College Binghamton, NY May 2nd, 1970 www.RealGoneMusic.com
Harpur College May 2nd, 1970 is often ranked as one of the band's best shows ever; it's also a three-hour three disc box-set. This concert was captured around the time "Workingman's Dead" was about to be released so the band was road testing some of their newest material
The first disc begins with the first set which is (mostly) acoustic. It includes numerous traditional cover songs as well as material from their Workingman's Dead and American Beauty CD's. "Don't Ease Me In" opens the show and finds the band purring like a jug-band especially when Ron "Pig Pen" McKernan adds his harp. But songs like "I Know You Rider," "Beat It On down the Line" sound fuller when performed plugged-in. Others like "Friend of the Devil," "Dire Wolf," "Black Peter," and "Candyman" were never my favorites and a few are just too long time-wise. Garcia finally goes electric on "Cumberland Blues" as the other band members keep it acoustic, New Rider David Nelson also joins in making this rendition the best of this set. "Deep Elem Blues" follows and it's also too lengthy at nearly eight minutes. "Cold Jordan" brings back Nelson and adds John "Marmaduke" Dawson but doesn't fascinate. The set concludes with a spirited "Uncle John's Band," and now it's time for the New Riders of the Purple Sage to take the stage. * The New Riders set is not included in the box-set and I'm not sure if Garcia was still sitting in with the Riders at this time but I think so.
The second disc starts the electric set, opening with a faded in and short (but fiery) St. Stephen" that shifts to a brief "Cryptical Envelopement" that's very similar to their "Anthem of the Sun" album version. Onto the dual drums for three and a half minutes (good,) and then it's the heat of "The Other One" for nearly fourteen minutes of electronic energy then back to a lengthier "Cryptical Envelopment" that's nine minutes of trippy, serene, volatile and explosive jamming. This Envelopment makes its way to the Bluesy "Cosmic Charlie" that ends this six song jam piece. Then there's an early live take of "Casey Jones" that's just okay, but I'm wondering where's Pig Pen? Right here; his cover of the Rascals "Good Lovin'" appears but it's not one of their best as after a brief vocal/band intro of the song the drummers take over, but: Garcia, Lesh, Weir and the drummers (no Pig Pen B3 though) kick off into the stratosphere at warp speed nine plus, then Pig Pen returns with a vocal ending that concludes the second CD.
Disc three starts with another Pig Pen cover this time it's James Brown's "It's a Man's World" that's oddly arranged and was rarely performed perhaps for good reason, but we do get a pretty nice talking to rap from Pig Pen yet there's not much focus from the band nor is there any liftoff. * Note: Pig Pen passed on just three years after this concert. Psychedelic dance party time with a cover of "Dancing in the Streets" that sweet, long, and covers some terrestrial spaces too, it's a nice rendition that I think I heard compiled on another Dead LP, but good to have here. This box-set says that "Dancing in the Streets" segues to "Morning Dew," not true, as the second set ends with the Gaye classic. Want more? Sure; they drop a pretty okay but not special "Morning Dew." Then its bombs-away with a lengthy (16:35) and bombastic cover of "Viola Lee Blues" that ends in its glorious torrid frenzied finish, onto the finale (but too lengthy) "We Bid You Good Night." A nice touch to a very long evening of over five hours of music – that is if you count the New Riders set that's not included here. Whew!
As previously mentioned many Deadheads opine that this concert was one of their best. I don't concur. But it does offer an interesting view of the bands early playing that soon hereafter became extraordinary and essential. So I would title this show as somewhat prehistoric Dead, who were rapidly evolving as a work in progress. This concert is basic and raw, yet the Grateful Dead displayed genuine sincerity that was also powerfully stimulating; exemplifying they were nearly ready for their next leap. Jam on!
Musicians Jerry Garcia: guitar & vocals, Mickey Hart: drums, Bill Kreutzmann: drums, Phil Lesh: bass & vocals, Ron "Pig Pen" McKernan organ, harmonica & vocals, Bob Weir guitar & vocals.
Recorded by: Bob Matthews, Tape Archivist: Dick Latvala, CD mastering: Jeffrey Norman
As always on each of the Dick's Picks series: Caveat Emptor: "These compact discs were mastered directly from the original halftrack 7.5 ips analog tapes recorded at this show. The acoustic set was recorded in stereo. The electric sets were monaural. While the reason for this remains a mystery, spurious electrical activity is suspected." Got to love these guys!
For 16 years Bob Putignano has been pivotal at WFDU with his Sounds of Blue radio show (Wed. & Fri. 9am-1pm) www.SoundsofBlue.com – 2015's most pledged to ($21,000+) radio program at https://wfdu.fm Previously a contributing editor at Blues Revue, Blueswax, and Goldmine magazines, currently the Music Editor for the Yonkers Tribune www.YonkersTribune.com – www.MakingAScene.org & www.wfdu.fm/Whats-Happening/Bob's Music Reviews/bobs music reviews/ Bob was the 2003 recipient of the "Keeping the Blues Alive" award (given by the Blues Foundation in Memphis) for his achievements in radio broadcasting. Putignano can be contacted at: bob8003@yahoo.com