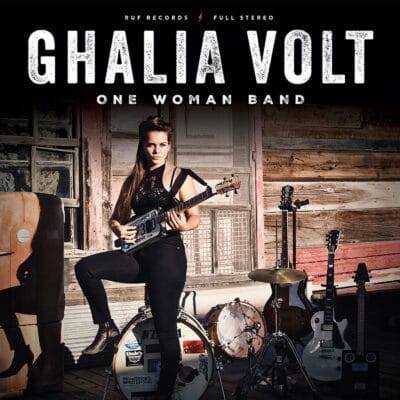 Ghalia Volt
One Woman Band
Ruf Records
Belgian born Ghalia Vauthier spent her days busking the streets of Brussels, and the nights playing that cities clubs and venues. As a lover of U.S. R n' B and blues, the singer-songwriter was drawn stateside. Visiting Chicago, Memphis and Nashville she finally found her groove in New Orleans, combining her punk-rock attitude with New Orleans' own Mama's Boys to release her breakthrough debut "Let The Demons Out" in 2017.
On her follow-up 2019 recording the adventurous Ghalia decided to dive deeper into the hill country of Mississippi and record at the Zebra Ranch Studio in Coldwater. Produced by Ghalia (who dropped her birth name for the more descriptive surname Volt); bassist Dean Zucchero, and Kevin Houston, "Mississippi Blend", featured hill country artists Cedric Burnside, Lightnin' Malcolm, Cody Dickinson and Watermelon Slim.
While Covid destroyed the plans of touring and the music scene fell still; Ghalia asked herself "What now?". This is the busker's rebirth as a solo artist, and as a new "One Woman Band". "Playing a kick, snare, and hi-hat plus a tambourine with my two feet, while playing slide/guitar and singing at the same time." Nine of the eleven songs were written by Ghalia while on a month long train trip. "Most of the songs are inspired by the journey and real experiences. Others from imagination." Co-produced by Boo Mitchell and Ghalia; the album was recorded and mixed by Mitchell at the Royal Studios in November 2020, "on the same board where Al Green and Willie Mitchell made history". Ghalia plays the whole album solo except for two cameos from bassist Zucchero; and two from guitarist Monster Mike Welch.
Drawing on her punk rock attitude Ghalia opens with "Last Minute Packer" sporting the lyric "Well I'm a last minute packer, I wait til the morning after…when I arise I like a clear head, spread my stuff all over the bed…and it's packing, packing, unpacking, in and out…no time to cuss, no time to fuss, gotta' make that morning bus, I like to be under the gun, when packing is more fun". Drum roll; by the time the song is over you're in love with her craziness.
"Espiritu Papago" features bassist Zucchero as Ghalia sings "My car broke down, and I've been wandering around… yes I'm melting in the desert on a hot summer day, walking on my heals on a red highway…please Espirtu Papago Llevame at Camino Rojo". On "Can't Escape", she sings "I wish there was a switch on my mind, that I could find a way to unwind…I wanna stop being my brain's slave, or you'll find me in the grave, six feet in the ground"; there is a relentless pounding, and a sense of mystery. "Evil Thoughts", "evil thoughts, would you mind to leave me alone…I'm tired of feeling blue, evil thoughts, won't you stop that voodoo"; Welch comes in with a lead guitar solo as Ghalia plays rhythm and drums away, it's raw and it works.
"Reap What You Sow", is a rocker with some infectious slide, "I'm heading down south babe, gonna have to let you go". On "Loving Me Is A Full Time Job", Ghalia sings "and I want you around, when the sun goes down…at lunch you can eat me up, for dinner drink out of my cup".
The covers include Ghalia's version of Tampa Red's "It Hurts Me Too" first recorded in 1940; and "Just One More Time", written by Ralph Bass and Ike Turner, and recorded by Bill Gayles and Ike Turner's Rhythm Rockers in 1956, featuring both Zucchero and Welch.
Ghalia is impressive on "One Woman Band". She's just got it.
Richard Ludmerer
Help Support Making a Scene
Your Support helps us pay for our server and allows us to continue to bring you the best coverage for the Indie Artists and the fans that Love them!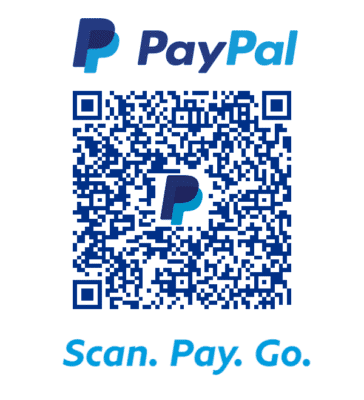 FOLLOW US ON INSTAGRAM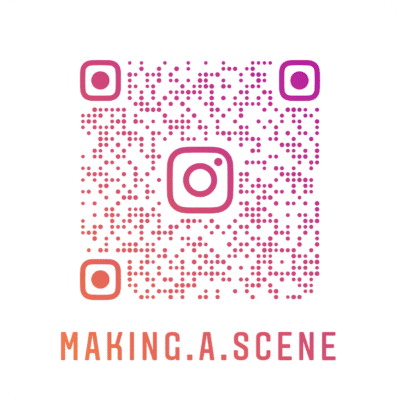 Subscribe to Our Newsletter