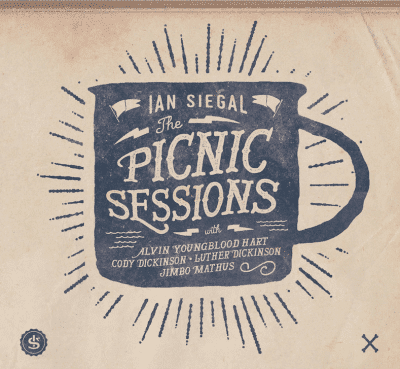 There is a welcome trend in blues music lately, of people wanting to get back to basics, to create music that is as authentic and natural as possible on record, so that the listener feels as though he or she were right there with the band listening as the music goes down. That is the case with Ian Siegel's latest release, The Picnic Sessions.
The recording took place in late 2013, when Siegel traveled from his native Britain to meet up with his old friends, Cody and Luther Dickinson and Alvin Youngblood Hart, and a new friend, Jimbo Mathus. These friends just happen to be some of the best and most inventive roots and blues musicians in the business and perfectly capable of picking up whatever instruments are lyng around and playing them while making up the as they go along and that is just what they did at the Dickinson Brothers' Zebra Ranch Studio is Coldwater, Mississippi.
Most of the songs here were written by Siegel, some on the way to the session and some partially improvised right in the studio. There are two covers. "Hard Times Come Again No More" is an old Stephen Foster song from the Civil War era which is surprisingly heartfelt and relevant here. Townes Van Zandt's "Heavenly Houseboat Blues" is a joyful takeoff of Southern Gospel songs about getting to heaven via special transportation, like "This Train," only this time it's a houseboat of gold and silver.
The songs vary from the very amusing "Talking Overseas Pirate Blues" to the Tex-Mex tale of "Gallo del Cielo" and the instruments played include mandocello, Woogie board (electrified washboard), banjo, guitar, bass, and assorted others. The tracks are interspersed with bits of banter that add to the informal and down-home flavor of it all. Siegel's raspy growl is perfectly complemented by the voices of Hart, Mathus and the Dickinson's and it is obvious that they are having a wonderful time.
And you will have a good time, too. I defy anyone to listen to this CD and not feel caught up in the enthusiasm and spirit of liberation and adventure of musicians on the same wavelength doing what they love to do and putting it down on tape and then on record with no overdubs or do-overs. It's the next best thing to being invited to the picnic yourself!
---