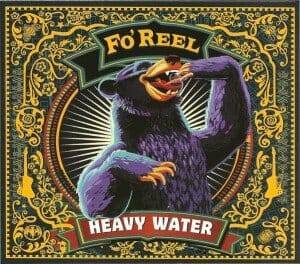 Fo' Reel
Heavy Water
Independent
This is the debut recording from a band that deserves your attention. Fo' Reel is steeped in New Orleans soul and funk. They are just beginning so this is a formative recording.
CP Love was born in New Orleans and first recorded for the King Walk label in the 1960's. He worked with Wardell Quezerque and wound up on the Malaco/Chimneyville Record label.
Mark Domizio is a New Orleans guitarist. During the last twenty years he has worked with CP Love, Henry Gray and Bryan Lee, and recorded with Buddy Guy, Duke Robillard, and Kenny Wayne Shepherd. He is also co-producer and the bands most prolific songwriter.
Johnny Neel is a keyboardist and songwriter from Nashville, Tennessee. He is known for his stage and session work with the Allman Brothers, Gov't Mule, and Dickey Betts. His songs have been recorded by John Mayall, Delbert McClinton, Keith Whitley, Ann Peebles, Dorothy Moore, The Oak Ridge Boys, and many others. His last album was 2012's "Every Kinda' Blues…But What You're Used To". This new album was recorded at Neel's Straight Up Sound Studio in Nashville Tennessee.
Other band members include Rick Lawson, vocals; David Hyde, bass; Daryl Burgess or Allyn Robinson, drums; and Jon Smith, tenor sax.
The opening track is a soul charged gem. "Breaking Up Somebody's Home" was co-written by Al Jackson, Jr. and Timothy Lee Matthews. It was recorded by Albert King in 1972. Jackson was also the drummer and founding member of Booker T. and The M.G.'s. Ward Smith, baritone sax, and Barney Floyd, trumpet are added on this and on three other tracks.
Fo' Reel also covers two songs written by Luther Allison and James Solberg. "What's Going On in My Home" and "Just As I Am" (also co-written with Sandy Carroll).
Domizio and Love co-wrote both the title track "Heavy Water" and "What Can I Do". On all of the above, Love's clear soulful voice is highly emotive.
Domizio also co-wrote four songs with Rick Lawson and these are sung by Lawson. Lawson's roots are in gospel and he has been on stage with B.B. King, Bobby "Blue" Bland and many others. Lawson vocals are also outstanding on "Leave Your Love Alone", on "Outside Love", and on "Blues" the latter featuring a beautiful guitar solo from Domizio. Jon Smith's tenor decorates these tracks. The band and full horn section get funky on "Shake N Bake".
"Gate" and "Tater" are instrumentals written by Domizio and the band really gets into a groove. Domizio's guitar, Neel's organ and the horns make a fine breakfast blend. The former reminds me of Gatemouth Brown.
A lot has occurred since this album was initially released on May 27th. The touring band now consists of Love, Domizio, Neel and David Barard. Barard is the extraordinary bass player who for many years played and toured with Dr. John. I can't wait to hear more from these guys. They are fabulous.
Richard Ludmerer