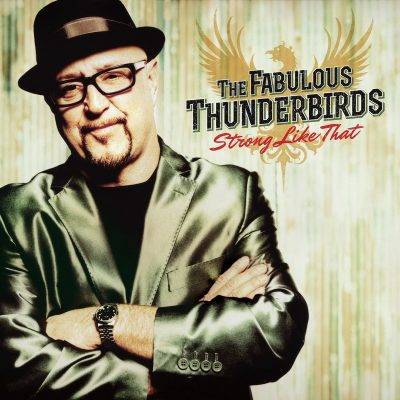 The Fabulous Thunderbirds
Strong Like That
Severn Records
Formed in 1974 by Kim Wilson, Jimmie Vaughan, Keith Ferguson and Mike Buck The Fabulous Thunderbirds have just released their fourteenth album. They had a top ten hit in 1986 with "Tuff Enuff" which helped insure their longevity. That same year they won The Blues Music Award for Band of The Year. Although there have been many personnel changes they are still fronted by Kim Wilson, harp and vocals.
Wilson also has six recordings under his own name including the 2003 Grammy nominated "Looking For Trouble" for which he received six BMA nominations. Wilson overall has thirty five nominations having won BMA's for "Song of The Year"; "Blues Male Artist of The Year"; "Best Instrumentalist-Harmonica"; and "For Pops: A Tribute to Muddy Waters" the 2015 "Traditional Blues Album of The Year".
In 2013 The Fabulous Thunderbirds signed with Severn records and released "On The Verge". This is only their second album for Severn. Once again they have had some personnel changes. The band today includes Wilson; Johnny Moeller, guitar; and the Severn Records house band of Kevin Anker, keyboards; Steve Gomes, bass; and Rob Stupka, drums. The house band has been previously utilized on soul blues albums from Tad Robinson, Darrell Nulisch, Lou Pride and others. The horn section includes Kenny Rittenhouse, trumpet; Joe Donegan, trumpet; Antonio Orta, sax and flutes; and Bill Holmes, trombone. The horn arrangements are from Rittenhouse.
This is the most soulful we've heard Wilson in quite some time. The album opens with the Eddie Holland, Cornelius Grant, Norman Whitfield "I Know I'm Losing You" recorded by The Temptations in 1968. Roosevelt Collier is featured on steel guitar. From the same year is "I've Never Found a Girl (to Love Me like You Do)". It was written by Booker T. Jones, Al Bell, and Eddie Floyd and recorded by Floyd. Moeller's rhythm guitar is perfect.
"Drowning On Dry Land" was written by Al Jackson Jr. a founding member and drummer for Booker T. and The MG's. He was also a songwriter for Stax Records. It was recorded by Albert King in 1969. Wilson's harp and vocal are marvelous; Anker is featured on the keys. The funky "Somebody's Getting It" was composed by Clarence Coulter, Don Davis, and Chico Jones and waxed by Johnnie Taylor in 1976. The horn arrangement and background vocals are outstanding.
Two songs come from songwriter Paul Kelly. "Don't Burn Me" features Anson Funderburgh on guitar while "You're Gonna Miss Me" features Wilson on harmonica and Moeller on guitar. "Where's Your Love Been" comes from singer/songwriters Sandra and Donna Rhodes.
Wilson wrote "Smooth", and "Meet Me on the Corner" both of which cook from start to finish. The title track "Strong Like That" was written by the BMA nominated songwriter and bassist Gomes.
This recording re-establishes Wilson as one of our best soul/blues singers. All of these songs should receive a considerable amount of airplay. The album is meticulously produced by Anker, Gomes, Wilson, and David Earl owner of Severn Records.
Richard Ludmerer