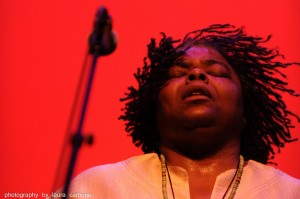 An Exclusive Interview with Alexis P Suter
Website www.alexispsuter.com
Facebook https://www.facebook.com/alexis.p.suter.3?fref=ts
LIVE from the Midnight Circus Talks with Alexis P Suter! by Richard Lhommedieu on Mixcloud
International Recording Artist's The Alexis P Suter is a vocalist who transcends styles and genres. When the great Bluesman B.B. King first heard Alexis P. Suter sing, he was visibly impressed and said so after her opening set for him at BB Kings NYC. Shaking his head in wonder in his characteristic way, he remarked: "It's a rare thing to share the stage with great talent like that young lady."
The Alexis P. Suter Band have earned similar accolades from other well-known musicians and performers, including Dan Aykroyd and the great Levon Helm of The Band.
A true vocal phenomenon, bass/baritone powerhouse Suter and her band began wowing audiences in the northeast as regular performers at Levon Helm's Midnight Ramble Sessions in Woodstock, NY. "She is one of those wonderful spirits, she's got her arms around you; you can feel that," Helm has said.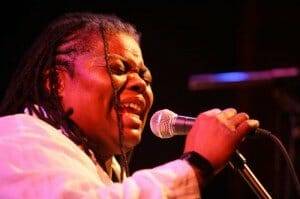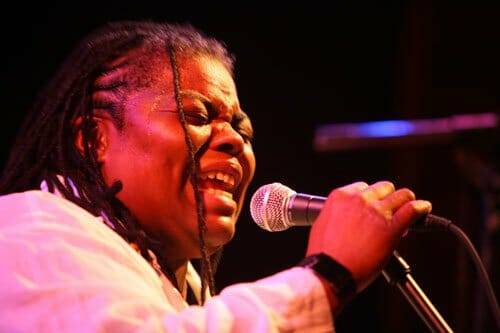 The Alexis P. Suter Band opened the show at The Midnight Ramble in Woodstock, NY over 90 times. As special guest openers for The Levon Helm Band, they played to sold-out audiences at the Beacon Theater, Bethel Woods Center For The Arts, The Paramount Theatre in Asbury Park, NJ and Central Park's Summerstage.
Since then, APSB have been in high demand at North American Roots and Blues festivals, venues and events including, The 50th Annual Philadelphia Folk Festival, Bluestock, Musikfest, Beale Street Music Festival, Mont Tremblant Music Festival, Cincinnati Blues Festival, FloydFest, Kitchener Blues Festival, Briggs Farm Blues Festival, Pocono Blues Festival, Vermont Blues Festival, Salmon Arm Roots and Blues Festival, Columbia Blues Festival, Tampa Bay Blues Fest and many, many more.
Alexis was nominated for Best Soul Blues Female Artist at the 33rd Annual Blues Music Awards held in Memphis, Tennessee! "All Over Again" from their release"Two Sides" was recently named NPR's "Song Of The Day".
APSB have 5 releases; "Two Sides" (Hipbone), "Live at theTurning Point" (Festivalink), "Just Another Fool" (Hipbone), "Live at the Midnight Ramble" (Levon Helm Studios) and "Shuga Fix" (Hipbone). Their most recent release, "Two Sides" has received much praise from blues publications, Blues Revue, Living Blues, Downbeat, Elmore and Big City Rhythm and Blues. Legendary music writer Jim Bessman also gave the CD a rave review in The Examiner."Two Sides" is produced by APSB members Vicki Bell and Ray Grappone.
Along with Suter's extraordinary bass/baritone voice and amazing and powerful stage presence, her real secret weapon is The Alexis P. Suter Band! At every show audiences show their whistling, clapping and cheering appreciation for the APSB with drummer Ray Grappone's dynamic beats, guitarist Jimmy Bennett's searing leads, Peter Bennett on down home solid bass and the very talented backing vocalist Vicki Bell. The firepower of this exciting band has captured the attention of some of the best players around, and they are considered by their peers as one of the best LIVE Bands on the scene today!
The Alexis P. Suter Band have contributed a song to the Songs After Sandy (songsaftersandy.com) project and Restore Red Hook. This is a 3 CD compilation of some of the biggest artists in music today. APSB are proud and honored to be on the Second Volume along with Sir Paul McCartney and Dave Stewart (Eurythmics) with their song "In The City".
LOVE THE WAY YOU ROLL, the new studio release on American Showplace Music and produced by the amazing Ben Elliott, is now out to rave reviews.