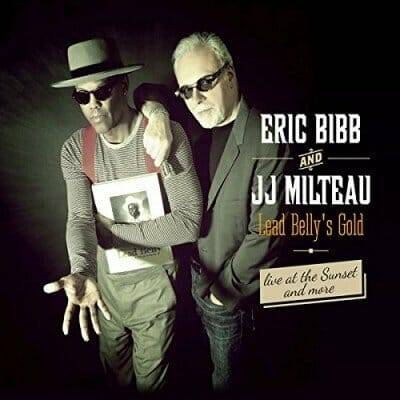 Eric Bibb and J.J.Milteau
Lead Belly's Gold
Live at the Sunset & more
Stony Plain Records
Eric Bibb began to receive recognition in 1997 when he released "Me To You" on the Code Blue label. That album featured guest appearances from Pops & Mavis Staples, and Taj Mahal.
In 2004 Bibb signed with Telarc Records and released Eric Bibb and Friends. More important maybe was another 2004 Telarc release called "Sisters and Brothers". It was a collaboration between Bibb, Rory Block and Maria Muldaur.
Bibb also collaborated with his father Leon in 2006 when they released "Praising Peace: A Tribute to Paul Robeson; on Stony Plain Records. At the time I didn't know that Robeson was Eric's godfather. His theatrical father Leon Bibb had a successful music career during the folk boom of the early 1960's.
In 2010 Bibb released "Booker's Guitar". That album was inspired by Bibb's playing a guitar once owned by Booker White. I remember reading that the album matched the intensity of Bibb's live shows. In 2012 and again in 2013 Bibb was the winner of The Acoustic Artist of The Year award at The Blues Music Awards. Besides winning twice Bibb at the time had a total of eighteen BMA nominations. It was recently announced that Bibb has two more Blues Music Award nominations. One for his last studio recording "Blues People" on Stony Plain Records and another for 2016 Acoustic Artist of The Year.
This new recording is Bibb's 35th and that doesn't include four live albums or his three DVD's. This is also Bibb's fifteenth collaboration; this time with J.J. Milteau. Milteau is a French Blues harmonica player with eighteen recordings of his own. Milteau's most successful recording was "Memphis" an award winning French album that featured guest appearances from both Little Milton and Mighty Sam McClain. Together they pay tribute to Leadbelly.
Huddie Ledbetter a.k.a. Leadbelly (b. 1888 d. 1949) was a songster. He collected traditional songs but also made them his own. He was also a prolific songwriter. I was expecting the usual traditional interpretations but these are modern adaptations. The album includes eleven songs recorded live at the The Sunset, a Paris nightclub; and five songs recorded in the studio.
On "Grey Goose" credited as traditional Bibb's vocal is robust yet relaxed. Milteau's harmonica playing sounds accordion like possibly due to a pedal effect.
Two spirituals; "When that Train Comes Along" and "Swing Low, Sweet Chariot" are performed as a medley. Bibb's lead vocal is beautiful. Big Daddy Wilson provides the background vocal.
"On a Monday", was written by Leadbelly. Ry Cooder included a version of this on his 1971 album "Into The Purple Valley" and the song remains one of my favorites. Bibb's version however features an impressive and different arrangement. Larry Crockett plays drums and provides the excellent percussion which makes for this very exciting take on the song. Bibb's vocal is masterful. Milteau's harp is more traditional here. Michael Robinson provides the backing vocal.
"The House of The Rising Sun" is a traditional folk song Leadbelly sung and among those notated by historian Alan Lomax who was essential in getting Leadbelly released from prison. The song was further popularized by The Animals who recorded it in 1964. Bibb has that theatric sensibility perhaps learned from his father and it results in a wonderfully dramatic performance.
We owe a debt to Leadbelly as he really was the first to record and sing songs like this for a public yearning for something real. Bibb and Milteau continue with "Midnight Special" which is performed in the traditional manner. It is about a prisoner marking his "time" with the passing of the midnight freight train. It was further popularized by Creedence Clearwater Revival when they recorded it in 1969.
"Bring a Little Water, Sylvie" is another example of how Bibb utilizes Crockett's percussion to change or accentuate the tempo so that he can rap his "pipes" around what otherwise would be a simple song.
"Where Did You Sleep Last Night" is also known as "In The Pines". This is a sexy version as sung by Bibb. Milteau's harp is perfect.
"When I Get to Dallas" is the first of three originals included; this one was co-written by Milteau and Bibb. Bibb has also written "Chauffer Blues" and "Swimmin' in a River of Songs". On the former Bibb switches to a twelve string guitar.
"Goodnight Irene" was also written by Leadbelly and popularized by The Weavers in 1950. Bibb's version includes the original lyrics which give the song a deeper and darker meaning.
"Rock Island Line" listed as traditional was a song Leadbelly learned while in prison. It was a country hit for Johnny Horton in 1957. "Bourgeois Blues" written by Leadbelly was another song covered by Cooder and it appears on his 1976 Reprise Records "Chicken Skin Music". "Stewball" is another traditional song from the Leadbelly canon. It is re-arranged by Bibb. It was recorded by Peter Paul and Mary in 1963. "Titanic" is yet another Leadbelly original. This song is not to be confused with Pete Seeger's "The Titanic Disaster".
Bibb and Milteau recognize the importance of Leadbelly's influences both on themselves and on audiences everywhere as his songs have become part of the fabric of our lives.
Bibb and Milteau make Leadbelly's songs their own on this fitting tribute.
Richard Ludmerer