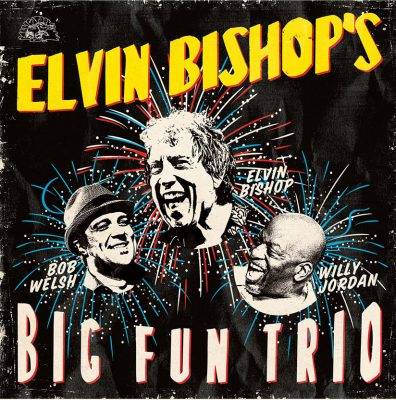 Elvin Bishop
Big Fun Trio
Alligator Records
Elvin Bishop has been active on the Blues scene ever since he met Paul Butterfield in 1963. He left The Paul Butterfield Blues Band and formed his own band, The Elvin Bishop Group, in 1968. This is Bishop's twentieth studio album and twenty-eighth album overall.
A lot has happened since Bishop's last recording 2014's "Can't Even Do Wrong Right". That album received three Blues Music Awards; Album of the Year, Song of The Year, and Band of The Year; and was also nominated for a Grammy. Bishop was further honored by being inducted into both The Rock and Roll Hall of Fame and The Blues Hall of Fame.
Bishop states that getting older hasn't cramped his creative spark and that he still has fun playing. The Big Fun Trio consists of Bishop, guitar and vocals; Bob Welsh, guitar and piano; and Willy Jordan, Cajon and vocals. Special guests include harp players Kim Wilson, Rick Estrin, and Charlie Musselwhite.
"Keep On Rollin" is the first of four Bishop originals. Bishop uses his down home delivery on this topical tune to expound on the current state of politics in our country. Welsh plays piano on this Congressional boogie while Bishop plays some mean guitar on this and on "Ace in The Hole" the title track reprised from his 1995 album of the same name. "Delta Lowdown" is the first of two instrumentals; this one featuring Bishop's guitar, Welsh's piano, and Estrin on harp.
Jordan who played congas on Bishop's 2012 "She Puts Me in The Mood"; and co-wrote "Old School" on "Can't Even Do Wrong Right" plays the Cajon, a drum like bass instrument originally from Peru, on "Southside Slide" featuring beautiful slide guitar from Bishop.
The fun guys collaborated on the writing for both "Let's Go" and "That's What I'm Talkin' About". The former is a rollicking theme song. The latter is another down home narrative from Bishop this time about the food in N' Orleans; which turns into a vocal duet between him and Jordan.
"100 Years of Blues" is another duet this time written and sung by Bishop and Musselwhite about their longevity and collective experiences while making this music. This is a great tune deserving of considerable airplay.
Then there are the covers. On these Jordan sings lead and he is quite fantastic. Sunnyland Slim's "It's You Baby" is a soulful vocal featuring Welsh on piano and Wilson on harp. Bobby Womack's "It's All Over Now" is another impressive vocal from Jordan with a rockin' guitar solo from Bishop. "Let The Four Winds Blow" is the classic Dave Bartholomew and Fats Domino tune and Jordan includes some scat. On "Can't Take No More", originally from Ted Taylor, Jordan sounds like Little Willie John; and Lightnin' Hopkins' "Honey Babe" becomes a vocal duet between him and Bishop.
Bishop is one of those pied pipers. He's a singer, guitarist, story teller, and producer of blues and roots music. He'll make great music wherever he wanders. He's worth following around.
Richard Ludmerer
Products from Amazon.com
‹
›