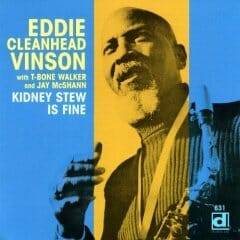 Eddie "Cleanhead" Vinson (1917-1988) was an alto saxophone player equally comfortable playing jump blues or jazz. He possessed a distinctive vocal style similar to that of Big Joe Turner. This is his classic 1969 recording again re-issued by Delmark Records. A former bandmate of Illinois Jacquet, Big Bill Broonzy and John Coltrane, he brought skills learned over the years to this extraordinary session. Backing musicians included Hal Singer, tenor saxophone; T-Bone Walker, guitar; Jay McShann, piano; Roland Lobligeois, bass; and Paul Gunther, drums.
Vinson sings "I don't want you hanging around my wife no more, that's why I'm telling you, buddy, Somebody Sure Has Got To Go". Jay McShann's piano solo and T-Bone Walker's guitar are featured. McShann, also revered recently passed away on December 7th 2006 at the age of 90.
Vinson's alto sax and Hal Singer's tenor duet on the opening of "Old Kidney Stew Is Fine". Vinson's vocal has a warmth and timbre that separates it from any other. His own alto sax solo opens "I've got a Juice Head Baby; she's drunk all the time". They knew how to jam back in the day, as the whole band works out on "Wait A Minute Baby".
The legendary T-Bone Walker's guitar is featured on the low-down, "I'm In An Awful Mood". Hal Singer's tenor behind the vocal show us just how well Vinson mixed his Blues and Jazz. Always humorous, Vinson sings "It was Just A Dream, when I woke up, not a child there looked like mine". The band gives Duke Ellington's "Things Ain't What They Used To Be" a strict jazz interpretation until Vinson comes in with his vocal on the last verses. The classic, "Old Maid Boogie" is next. Vinson's style is mostly forgotten but in 1982 he recorded with Roomful of Blues. To this day Greg Piccolo, former tenor saxophonist for Roomful of Blues, keeps this and other Vinson songs in his setlist. "Wee Baby Blues" follows. Vinson closes the set with Percy Mayfield's "Please Send Me Someone To Love" while T-Bone, Hal and Jay jazz it up; Vinson delivers his best vocal on this almost prayer like song.
Recorded thirty-eight years ago there is still freshness to this session. In the liner notes Bob Porter calls Eddie "Cleanhead" Vinson "an American original". He surely was.
Richard Ludmerer