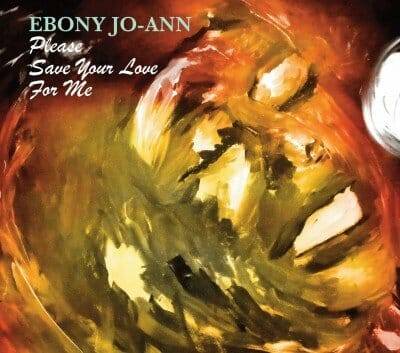 Ebony Jo-Ann
Save Your Love For Me
Independent
Ebony Jo-Ann is a New York vocalist and actress with numerous television, movie and theatrical credits. She has been featured on television's "Law and Order", in the Adam Sandler films "Grown Ups" and "Grown Ups 2" and on Broadway in "The Sunshine Boy's", and "Ma Rainey's Black Bottom". These are just a few of her credits.
Although Jo-Ann has mastered many musical styles her singing is rooted in the Blues and her soulful, guttural vocals charged with emotion. She has graced the stages of Carnegie Hall, Lincoln Center and The Kennedy Center. She has performed with Horace Silver, Nat Adderley Sr., Big Joe Turner, Bill Sims, and Kenny Neal among many others. Jo-Ann has been compared to both Etta James and the jazzier Etta Jones but this is her first studio recording.
For this recording Jo-Ann has chosen to be accompanied by some of Long Island's finest. Her producer is keyboardist Danny Kean whose huge talents are virtually unknown outside of New York. The band also includes Mark Bowers, the musical director of the Manhattans and the leader of his own band "Lil Bastad", lead guitar; Phil Bloom, drums; Tinkr, bass; and the horn section of Gerard Rampersad, tenor and alto sax; and Forrest "Frosty" Lawson, trombones and trumpet. Background vocals are provided by Jo-Ann, Kean, and Aziza Miller.
Jo-Ann has selected songs from writers she admires. Jo-Ann has often played Nick Ashford and Beverly Simpson's Sugar Bar in New York City and she has chosen to open with their song "Just Rain". Aziza Miller who is soon appearing at The Iridium Jazz Club, also in New York, contributes "Glad I Waited For Love". Also included are Irene Datcher's "Yo Love"; Miles Jaye's "Nosybody", and Kean's "Burnin' World".
The Sugar Bar is where producer Kean first heard Jo-Ann singing the classic "Please Save Your Love For Me" which was first recorded by Bobby "Blue" Bland. Other covers included are Percy Mayfield's "Send Me Someone to Love"; Eddie Miller's "Muddy Water" featuring Bill Easley on tenor sax; a duet with Guy Davis playing guitar, banjo, and harmonica on The Mississippi Sheiks "Sittin' On Top of the World"; and Syl Johnson's "Is It Because I'm Black".
Jo-Ann's emotions are shared with the listener on these soulful performances.
Richard Ludmerer