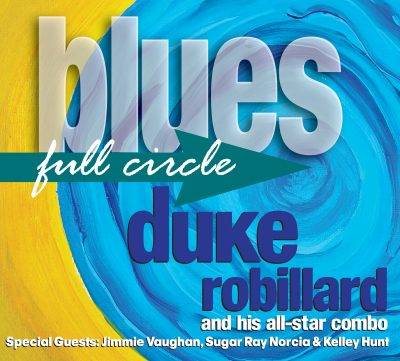 Duke Robillard Band
Blues Full Circle
Stony Plain Records
Duke Robillard formed Roomful of Blues in 1967. Since 1992 he has performed as the Duke Robillard Band accumulating 22 Blues Music Award nominations and winning 6 times. He won four times as Best Instrumentalist – Guitar and once as Traditional Male Artist of Year; and won again this past May for his last album, "The Acoustic Blues & Roots of Duke Robillard", the 2015 Acoustic Album of The Year.
This is Robillard's 32nd album under his own name. "Blues Full Circle" was recorded with a stripped down version of his band including Robillard, guitar; Bruce Bears, piano and Hammond B-3; Brad Hallen, bass; and Mark Teixeira, drums; in other words without a horn section.
Ten of the tunes were written by Robillard. Seven of them are new compositions while three are older songs Robillard wrote while he was the leader of Roomful of Blues. Robillard states that the album was recorded in two separate sessions.
Seven songs were first recorded at Lakewest Recording in West Greenwich, R.I. Among these are "Rain Keep Falling" and the deep blues "Mourning Dove". The small combo setting enables the listener to hear Duke's guitar and Bears' piano as they play off of each other's dynamics.
One of the songs recorded during this initial session was "Last Night" from New York City's Jimmy "Baby Face" Lewis. Robillard invited special guests Sugar Ray Norcia to do the vocal and Gordon Beadle to sit in on saxophone.
Shortly thereafter Robillard's rotator cuff became disconnected. Robillard states that he was unable to play guitar for almost a year. After extensive physical therapy he was able to go back into the studio to finish this album.
The second session was recorded at Duke's Mood Room in Pawtucket. Four additional songs were completed including "Lay a Little Lovin On Me" and "No More Tears". On the later Bears switches to the Hammond organ.
Kelly Hunt wrote a song about her experience at Duke's studio and "The Mood Room" was added. The finishing touch however was the addition of the guitar instrumental "Shufflin' and Scufflin" written and performed by Robillard and Jimmie Vaughan and featuring Doug James on sax.
This is small band old school blues and another winner from Robillard.
Richard Ludmerer