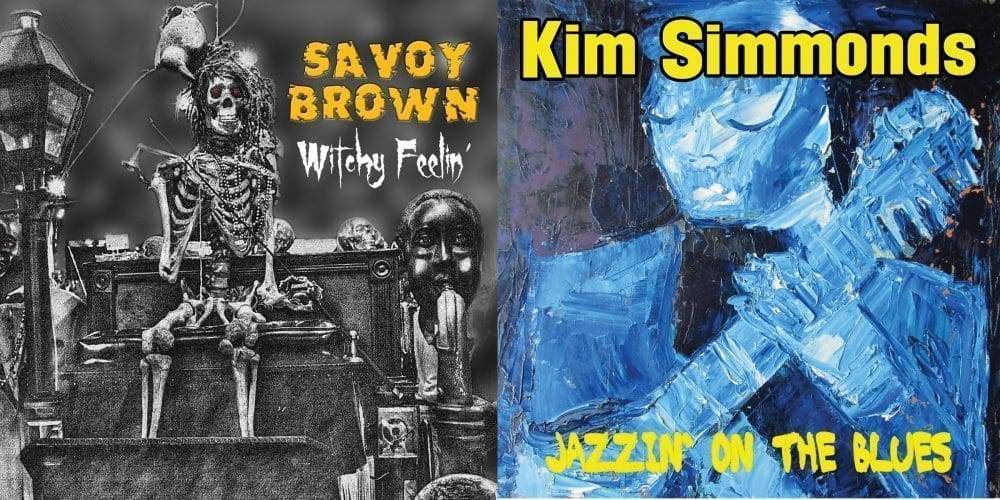 Double Duty
Kim Simmonds
Jazzin' on the Blues
Panache Records
Savoy Brown
Witchy Feelin'
Ruf Records
Guitarist Kim Simmonds was born in Wales in 1947. In 1965 he founded the band Savoy Brown. Their first album was 1967's "Shake Down" which wasn't issued in the U.S. Both "Blue Matter" and "A Step Further" were released in the U.S. in 1969. Savoy Brown began to achieve success with their 1971 album "Street Corner Talking" which included the title track and their hit "Tell Mama". They achieved even greater success the following year with "Hellbound Train". Simmonds moved from London and permanently settled in New York in 1979.
Simmonds released his first solo acoustic album "Solitaire" in 1997. "Jazzin' on the Blues" is his fifth solo album and forty-seventh album overall. These all acoustic instrumentals are a mixture of jazz and blues. Simmonds plays guitar, harmonica and bass. Nine of the twelve tracks are originals. The covers are The Beatles "She's A Woman"; Bill Doggett's "True Blue" and Smokey Robinson's "Shop Around". These medium tempo tunes are a relaxing change of pace.
"Witchy Feelin'" is Savoy Brown's fourth studio album and fifth album overall since signing with Ruf Records. Led by guitarist Simmonds the band celebrated their 45th anniversary in 2011 with "Voodoo Moon". They released their live album "Songs from The Road" two years later. Their last two recordings were 2014's "Goin to The Delta" and 2015's "The Devil to Pay".
Simmonds states that his guitar playing is primarily influenced by Otis Rush and Buddy Guy; and that vocally he derives inspiration from J.J. Cale. The current lineup has remained unchanged since 2009. Simmonds is joined by Pat DeSalvo, bass; and Garnet Grimm, drums. Their familiarity with each other makes this a great recording. The album was recorded, mixed and mastered by Ben Elliot at his Showplace Studios in Dover, N.J.
"Why Did You Hoodoo Me" is about the power of love. That hoodoo vibe continues on the title track "Witchy Feelin'" and throughout the album. "Guitar Slinger" is based on Simmonds' recollection of seeing Roy Buchanan in 1969.
"Vintage Man" is about a guy who doesn't change as he gets older. "Standing in a Doorway" is about striving for something just beyond your reach.
Simmonds still has what it takes. When sitting down to listen to either of these you know you're gonna have a good time.
Richard Ludmerer
[amazon_link asins='B071JV92FC,B000001FX1,B000001FX0,B000001FX3,B000001FX2,B00BFBWY66,B000001FWZ,B071LFW8S1,B012HTHTXC' template='ProductCarousel' store='maasc-20′ marketplace='US' link_id='2f5bbe2d-8f1b-11e7-800d-5f7a6589c0cf']