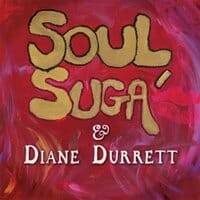 By Rhetta Akamatsu
Recently I was lucky enough to get an advance copy of Diane Durrett and Soul Suga from the lady herself. My, my, my.
Durrett lays on the sensual sass on songs such as "Show Up Sexy" and Butters in the Skillet," celebrates another sassy lady with "Sassy Larue" with its imminently single "Do ya" chorus, and then makes fun of that sensuality with "Woohoo," whose frank lyrics make it best for adult audiences and probably will keep that particular song off commercial radio.
Diane also shows she and her band (which includes the great Yonrico Scott on drums along with "Junebug" Massey and Ted Pecchio on bass on most tracks) can do straight up dance tunes like "Push the Push Back" and "Let Go and Let Groove."
But don't think the lady can't suddenly grab you by the heart. "All is Well" brought me to tears and made me think of some loved ones I have lost. "Be Somebody's Angel" is deeply inspirational while "I Know Your Nothings" is a sad, sweet song. "Bright Side" will cheer you up again with its peppy message and the one cover on the CD, "Let It Be," ties it all up in a tidy package while doing complete justice to The Beatles' classic.
This is a marvelous CD. You will laugh, you will cry, you will dance, and you will be inspired, all within 11 songs. It's no wonder that friends like Randall Bramblett, Oliver Wood, and Tinsley Ellis showed up to help out on a song or two. If you were a musician who was given the chance, you might well want to be part of this too.
Lucky for us, we all get to listen. Right now, you will have to hope to get the CD at a live show, if Durrett has some available, but keep your eyese and ears open for the official release. You're going to want this one.