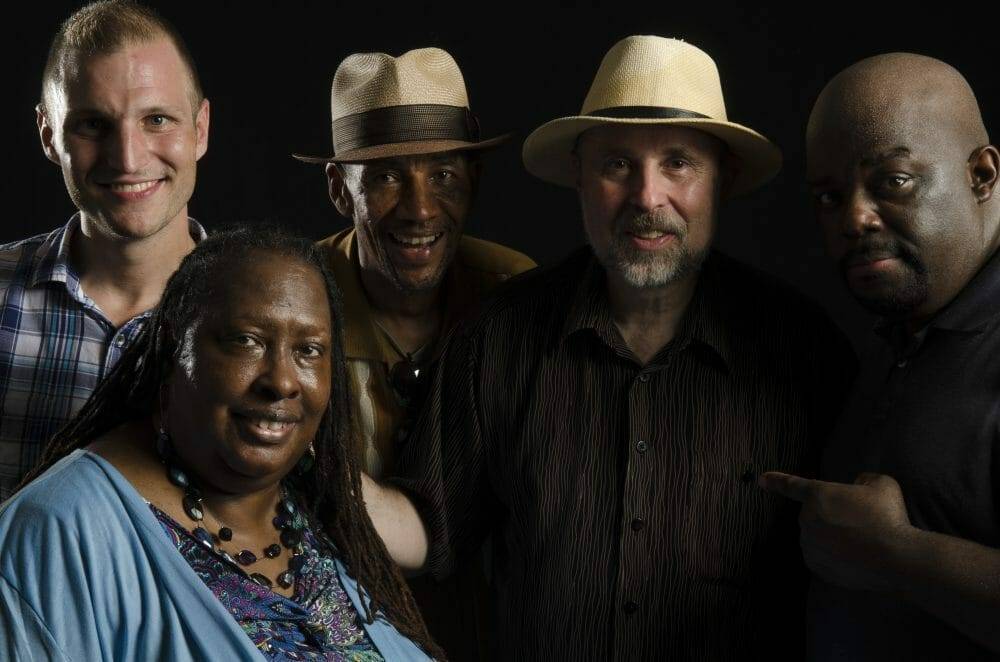 ---
---
---
---
Straight out of Chicago, Mississippi Heat has been performing and recording pure vintage blues for more than two decades.
It all began one night at a 1991 gig at the now-closed Cafe Lura in Chicago, where guitarist and singer Jon McDonald invited Pierre Lacocque to join him onstage. Jon had hired drummer and vocalist Robert Covington (with Sunnyland Slim at the time) and bassist Bob Stroger (also with Sunnyland Slim and with Jimmy Rogers).
It went so well that the three musicians decided to form Mississippi Heat. His brother Michel–also in attendance that night–volunteered to become the band's manager.
Since then, the band's current and former members have released a total of 11 albums, touring North America, South America and Europe. Throughout it all, the band's always stuck to its motto: "Traditional blues with a unique sound."
Mississippi Heat's unique sound has its roots in the diverse upbringing of Pierre Lacocque, born in Israel to a Christian Belgian family and raised in Europe.
Lacocque lived as a young child in Alsace, France, not far from the theologian Albert Schweitzer's birthplace. He was influenced by the the intense and impassioned scriptural upbringing of his father–a Protestant minister who became a world-famous professor of the Old Testament–and his beloved maternal grandmother, after whose hometown Lacocque would later named his publishing company, Ransart Music. (He also used his grandmother's maiden name for his record label, Van der Linden Recordings.)
Pierre, his brother Michel and his sister Elisabeth–who later did the artwork design for Mississippi Heat's first three CDs–were the only non-Jewish students to ever attend the Athénée Maimonides, a Jewish Orthodox school in Brussels. Following the Holocaust, Lacocque's parents and paternal grandfather–also a minister–felt that their children and grandchildren should learn about Judaism and the suffering and plight of the Jews. During WWII, his family was involved in hiding and helping Jewish families and involved in the Resistance.
Although Lacocque's father encouraged him to prioritize his studies, he developed a passion for music. At home, he listened mostly to classical music with his family, and Lacocque was drawn to American pop artists such as Aretha Franklin and Otis Redding, who he'd listen to on the radio and at friends' homes.
Lacocque received a toy harmonica from his father at around age 3. But it wouldn't be until his family moved to America, at age 16, that he'd take up the harmonica.
In the summer of 1969–shortly after his family settled in Chicago's Hyde Park neighborhood–Lacocque heard Big Walter Horton play a concert on the University of Chicago campus. The amplified harmonica was unlike anything he'd ever heard. It was at that point he knew playing the blues harmonica was his destiny.
Lacocque bought his first real harmonica just a few days later. He became obsessed with practice, picking up records, instruction books and wisdom from seasoned players whenever possible. Chicago was ripe with inspiration; golden era luminaries of the 1950's electric blues, like Muddy Waters and Howlin' Wolf, still loomed large.
Lacocque continued to play in bands in the '70s, while he studied psychology at McGill University. There, his rock-inspired band Oven won the 1976 Montreal Battle of the Bands.
After he returned to Chicago, Lacocque's focus turned increasingly to his work as a clinical psychologist. But in 1988, he returned to the harmonica, and after a few years of playing the Chicago circuit, he found a new home with Mississippi Heat.
Early on, the band garnered critical praise. The Chicago Reader's David Whiteis wrote in a 1993 review that the band's musicians "not only breathe new life into the classic sounds of Chicago blues but they also uplift with the joy and dedication they bring to everything they play."
Lacocque's early influences continue to shape the music his band records and plays. But he has also tried to incorporate new ideas, backed by a band whose versatility has grown dramatically over time. Mississippi Heat's latest album, Warning Shot released on the famed Chicago label Delmark Records in September 2014, featured sounds ranging from funk to boogie.
Over the years, Mississippi Heat has received praise from blues giants. Guitarist Buddy Guy has gone on record saying that it's "been a long time since I heard a good blues band like [Mississippi Heat]." Grammy Award-winning harmonica player Charlie Musselwhite wrote that the band gave "a phenomenal performance" on Warning Shot.
Mississippi Heat has also made waves on the blues charts. Warning Shot reached the number one spot on Living Blues Magazine's radio chart between October and December 2014. Two years earlier, Delta Bound made the chart's number one spot, and in 2005, Glad You're Mine reached the number 4 spot.
Along the way–from Tunisia to Spain, Canada and Serbia, among other countries–touring has been an integral part of Mississippi Heat's work. The band has given repeat performances at such prestigious events as the Chicago Blues Festival, Montreal International Jazz Festival, Lucerne Blues Festival and Ecaussinnes Spring Blues Festival, in Belgium (interviews filmed during their 1994 performance at the Belgian festival were made into a feature-length film, Back To The Roots).
Current Lineup