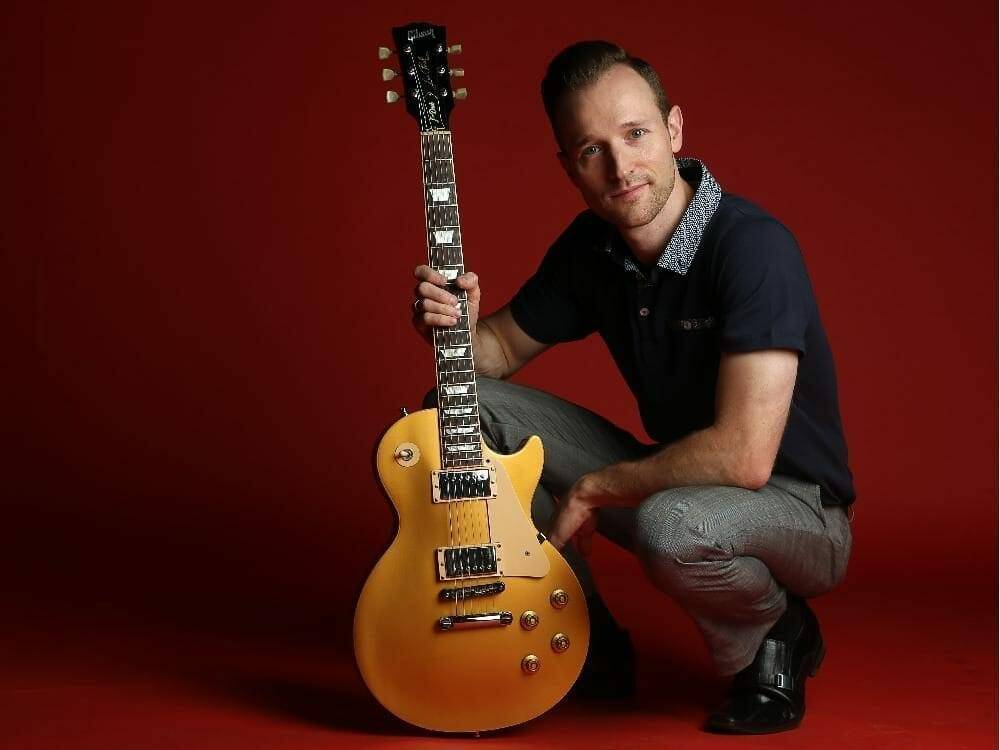 ---
---
---
---
JUNO Award Nominee, Canadian singer/guitarist JW-Jones tours constantly, and is known for his high-energy show that keeps getting hotter! Canada's national newspaper, the Globe and Mail, referred to this Maple Blues Award winner as "one of this country's top blues guitar stars."
JW's new release 'High Temperature' was named the Hot Shot Debut on the Billboard Top 10, and is the follow up to the JUNO Award nominated 'Belmont Boulevard'. From the liner notes: "Acclaimed Nashville producer Colin Linden takes Jones into new territory with warm, analog-driven tones, and a wide-range of material. His evolution as a musician and vocalist shine through on this record like never before. Real songs, real playing by real people, and JW is the real deal." – Chuck Leavell (The Rolling Stones)
In early 2016, Jones was requested directly from George Thorogood & The Destroyers' management to open for several of their spring tour dates, including Massey Hall in Toronto. The band received a standing ovation at the National Arts Centre in Ottawa.
The same year, Jones toured the UK for the first time, creating a buzz that resulted in glowing endorsements from members of the band Vintage Trouble, and Joe Bonamassa's UK publicist, Peter Noble. In 2015/2016, JW played over 100 high-energy shows per year, including being invited five times to perform alongside Buddy Guy, and twice with Woodstock legends, Canned Heat.
Guitar World Magazine featured a CD called 'Guitar Masters Vol. 2' that put Jones alongside guitar stars B.B. King, Jimmy Page, and Carlos Santana among others, which led him to an endorsement deal with Gibson guitars. Hollywood actor Dan Aykroyd, known for his Blues Brothers persona "Elwood Blues", says "this is an amazing blues band."
American magazine Blues Revue stated that "Jones' style is a fluid amalgam of T-Bone Walker's big, bright chords, Johnny 'Guitar' Watson's slashing leads, and Clarence 'Gatemouth' Brown's jazzy sting."
JW was born in Ottawa, Ontario and started playing drums at 13, at that time into Led Zeppelin, Jimi Hendrix and classic rock. A few years later, after witnessing a B.B. King performance, he fell in love with the blues and decided to take up the guitar. Soon he was absorbing the influences of artists such as Albert King, Freddie King, T-Bone Walker, The Fabulous Thunderbirds, and Jimmie Vaughan, and later, West Coast guitarists Junior Watson and Little Charlie Baty.
In 1998 he won a "Battle of the Bands" contest, and the following year he won a "Best Guitar Riff-Off" competition and used the studio time prize to record his debut album, Defibrillatin'. Jones was the first artist signed to Toronto-based label Northern Blues Music, which released the album in 2000, as well as his next five CDs.
JW's "epiphany moment" came shortly after signing with Northern Blues: "I was in college for a computer course. The label was flying me across the country to play in showcases, and I had gigs every weekend. My focus was on the music and not school. I remember walking away from the college one day, and just like the movies… I looked back at the school, and said to myself, 'I am never coming back here.' It was the best decision I've ever made. After that, it was complete concentration on building my career."
He started by garnering three consecutive Maple Blues Award nominations and being invited to perform onstage with The Fabulous Thunderbirds, Little Charlie & the Nightcats, and Junior Watson. Jones' second release, Bogart's Bounce, included performances by singer/harp player Kim Wilson and pianist Gene Taylor of The Fabulous Thunderbirds.
Kim Wilson produced JW's next release, My Kind of Evil, which featured well-known Canadian singer/guitarist Colin James as guest.
In 2006, JW released his fourth album, Kissing in 29 Days, including performances by David "Fathead" Newman, Ray Charles' main saxophone player for 12 years. In a feature article entitled "JW-Jones — A Rising Star Chases the Sound of Thunder(birds)," Blues Revue magazine stated that "JW-Jones is highly regarded in blues circles." One of the tracks, "Parasomnia," appeared on a Guitar World featured CD, Guitar Masters Vol. 2, along with B.B. King, Jimmy Page, Jeff Beck, and Carlos Santana.
On Jones' next release, Bluelisted (2008), he got the chance to work with two of his guitar heroes, Little Charlie Baty and Junior Watson, and rhythm section Richard Innes and Larry Taylor. The liner notes were provided by Dan Aykroyd, who wrote "crisp covers and cool originals make this record a yellow dot must-buy".
For his next project JW headed to Memphis' famed Sun Studios to record with blues legend Hubert Sumlin, the blues guitarist who worked with Howlin' Wolf for over 20 years and was named one of the 100 Greatest Guitarists of all time by Rolling Stone magazine. The resulting album, Midnight Memphis Sun, was released in 2010 and also featured guest Charlie Musselwhite, who stated that "JW Jones is one of the best guitar players I've heard in a long time. He and his band do great tunes with cool arrangements and I love listening to them. They play with taste and fire at the same time."
Jones' 2012 release, Seventh Hour was the second release in a row to hit #1 on "B.B. King's Bluesville" on XM Sirius Satellite radio, and led to the band's opening for B.B. at the Ottawa Bluesfest, and an endorsement deal with Gibson guitars.
Two years later, Jones was honoured by the Ottawa Business Journal and Ottawa Chamber of Commerce by being named one of the "Forty Under 40," (out of 250 nominations), a salute to the region's talented entrepreneurs who balance business achievement, professional expertise and community involvement.
He released Belmont Boulevard on the legendary Blind Pig Record label, and it was produced in Nashville by Grammy-winning producer Tom Hambridge, who's helmed projects for Buddy Guy, George Thorogood, and Susan Tedeschi.
For the songs on the album, Jones decided for the first time to delve deep into his personal life and tell some of his stories that he'd never revealed before. He co-wrote many of the songs with Hambridge, a noted songwriter whose tunes have been recorded by Lynyrd Skynyrd, Rascal Flatts, and Delbert McClinton. "Digging deep into some very serious personal stories from my past and turning them into songs has been liberating and part of the healing process. I hope these songs resonate with listeners that have been through similar experiences," said Jones.
Belmont Boulevard hit #9 on Billboard sales charts in the United States, held the #1 position on Canadian roots radio stations for 13 weeks, and was nominated for JUNO and Maple Blues Awards in Canada.
Musicians that tour with Jones (and appear on the latest release); Mathieu Lapensée (drums) and the heavy grooves of Laura Greenberg (bass) always add a powerful energy to the stage.
The future does indeed look bright for this upcoming star. Jones has now toured in twenty-three countries and four continents, and as opening act for George Thorogood, Jimmie Vaughan, Robert Cray, and the late Johnny Winter. Now, with his latest recording, High Temperature, he's excited about reaching an even wider audience.