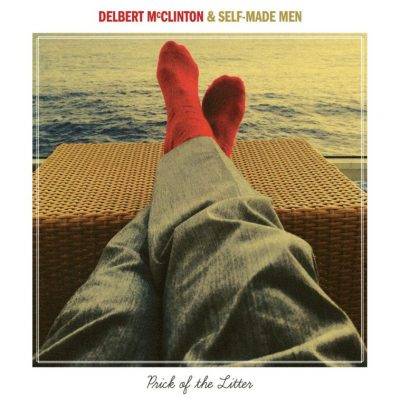 Delbert McClinton & Self Made Men
Prick of The Litter
Hot Shot Records
Delbert McClinton was born in Lubbock, Texas in November of 1940. He worked in a blues band that backed up Sonny Boy Wiliamson II, Howlin' Wolf, Lightnin' Hopkins and Jimmy Reed. In 1962 he played harmonica on Bruce Channel's "Hey Baby". He formed the Rondells and had a charting single in 1965. In 1972 he moved to Los Angeles and partnered with Glen Clark to release two albums. In 1978 Emmylou Harris recorded McClinton's song "Two More Bottles of Wine".
McClinton's 1980 album "The Jealous Kind" contained the hit single "Giving It Up For Your Love". In 1989 his album "Live From Austin" received a Grammy Nomination. He won his first Grammy in 1991 for a duet with Bonnie Raitt "Good Man, Good Woman". He won two more Grammy's in the category of Best Contemporary Blues Album for his 2001 recording "Nothing Personal" and for his 2005 recording "Cost of Living". His last album was a reunion with Glen Clark on 2013's "Blind, Crippled and Crazy".
This is McClinton's 26th studio album overall. The "Self Made Men" include McClinton, harmonica and vocals; Kevin McKendree, keyboards; Bob Britt, guitar; Michael Joyce, bass; Jack Bruno, drums; and Quentin Ware, trumpet. The album is produced by McClinton, McKendree and Britt.
This time McClinton showcases his softer side deriving inspiration from Johnny Mercer, and Percy Mayfield. The album opens with "Don't Do It" a shuffle co-written with Nashville's Gary Nicholson. It is a duet with Lou Ann Barton and includes Jimmie Vaughan, lead guitar; McKendree's piano and Jim Hoke on saxophone.
"Doin' What You Do" is one of four tunes written by McClinton, Britt and Joyce and it features McKendree on both the B-3 and a Rhodes piano. McClinton plays some harp as the band gets into a sensuous groove. This production is a great vocal from McClinton featuring backing singers Vicki Hampton and Wendi Moten. "Pulling The Strings" is a smoky tune; McKendree tinkles the ivories as Ware takes a trumpet solo. "It's hard enough to live my life without someone else pulling the strings". Then there's "Like Lovin Used To Be" with Hoke's sax dancing around in the background "what ever happened to romance, is it gone or is it me, I like lovin like it used to be". "Rosy" features Britt's guitar; McKendree on piano and Roy Agee with a muted trombone solo "hearts get broken every day, you can't let that get in your way, soon enough those tears will fade and everything will be rosy".
"Middle of Nowhere" is the first of three songs written by McClinton, McKendree, Britt, and Clark. McClinton sings in a falsetto while Britt takes a nice guitar solo. "Skip Chaser" features Clark singing harmony and Al Anderson of NRBQ on guitar. "San Miguel" is a lounge-like tune with piano from McKendree; Bruno's brushes and the lyric "I didn't leave my heart in San Francisco".
"Neva" is from McClinton. It's another groove; "that's the kind of woman I want to know, keep her wherever I go". "Jones For You" was written by Tim Ouimette who plays a Louis Armstrong type trumpet throughout. "The Hunt Is On" is from Percy Mayfield and it features Britt on guitar and the horns.
"Bad Haircut" was written by McClinton and McKendree. "Empty bottles and dead cigarettes, a sad refrain from a world of regret, I know I could make it if I could just get up, but I'm stuck in bed with a bad haircut".
McClinton states this is the best band he's ever had. At 76 years old McClinton is making the best music of his illustrious career.
Richard Ludmerer
[amazon_link asins='B01M3YSOE0,B0125PLV46,B000FVBLAW,B002NSQ1WI,B000SOVL42,B01K8M38YE' template='ProductCarousel' store='maasc-20′ marketplace='US' link_id='a6df7dcb-f877-11e6-8e7d-87c4ffea77e6′]