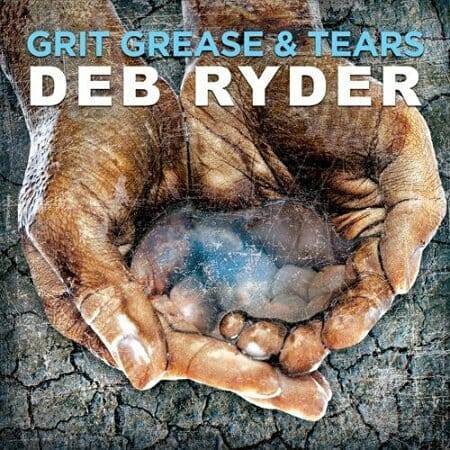 Deb Ryder
Grit, Grease and Tears
The elements needed for a great Blues song, or album are fairly straight forward; a solid rhythm section, hot lead guitar, smooth keys, a punctuating horn section, hot harmonica and scorching, soulful vocals singing about hard times, heartache, and fond memories. Deb Ryder boldly declares it also requires three more elements: Grit Grease & Tears and thus the title of her third studio album from the multi award nominee and winner of the Sean Costello "Rising Star Award."
Thirteen new, original songs on her third album Grit, Grease and Tears, released September of 2016, stand together as a testament to Ryder's spirit and commitment to the blues. Delivering the prime elements are her team of producer/drummer Tony Braunagel, Ric Ryder on Bass, Johnny Lee Schell on guitar and the great Mike Finnigan on keys along with special guests Sugaray Rayford, Albert Lee and Bob Corritore.
Ryder kicks off the testimony with the hard driving shuffle 'Aint Gonna Be Easy,' that spells out her modus operandi as a blues diva. The heat quickly rises when SugaRay joins her for the full tilt funk duet 'Get A Little Steam Up,' doing their best Ike and Tina. Schell layers on slide guitar during the southern fried rocker 'Blink Of An Eye,' completing the tunes Bonnie Raitt like feel. The title track GRIT, GREASE & Tears, is a lowdown blues stomp, with Ryder pleading "I Can't Cry Anymore," while Corritore replies with wailing harp. Horns and Hammond B3 color the self portrait of the prettiest girl in town 'Sweet Maryanne," Ryder then gets intimate during the sultry blues 'Lord Knows I Do." The band ramps up the west coast funk on 'Panic Mode,' Albert Lee lends his signature chicken pickin' guitar to 'Just Her Nature,' which is soaked in a Little Feat inspired groove. Ryder lets loose on the bump and grinder "New Mechanic (Patrick's Blues) and preaches the blues during the gospel flavored "River Of Forgiveness.' Texas boogie "Prisoner Of War,' is another demonstration of her vocal power and lyrical finesse.
All those essential elements of Grit, Grease & Tears are back in play for album closer 'Right Side Of The Grass," with Ryder singing about the power of positive thinking backed by a hot full band, right where she belongs in the center of the mix.
Rick J Bowen