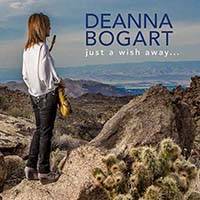 Deanna Bogart
Just a Wish Away
Blind Pig Records
I first heard Deanna Bogart on her "New Address" album released in 1996. The song that really got to me was "Checks and Love Letters".
Her 2002 "Timing is Everything" album reinforced my interest right from its opening track "Still the Girl in the Band".
In 2006, on Blind Pig records, Deanna released "Real Time" a terrific fusion of blues and other influences. Her singing, songwriting and live performance in support of that album ignited her career. In 2008 she won a much deserved Blues Music Award for Best Instrumentalist – Horn.
Then in 2009 she collaborated with Dan Leonard, Scott Ambush and Mike Aubin. The band and album were called "11th Hour" and she was jazzier than ever.
Deanna reprised "Still the Girl in the Band", when she appeared with Tommy Castro's Legendary Rhythm and Blues Cruise Revue, and it helped her win two more BMA's for Best Instrumentalist – Horn (2009 and 2010).
In 2012 she was applauded for "Pianoland" also on Blind Pig, resulting in a 2013 BMA nomination for Piano Player of The Year.
"Just a Wish Away" opens with "If It's Gonna Be like This" featuring Marty Rifkin on pedal steel. Rifkin also guests on "What is Love Supposed to Do" and on "If You Have Crying Eyes", a vocal duet with guitarist Chris Jacobs, written by John David Souther.
Deanna also covers the Doyle Bramhall/Stevie Ray Vaughan "Tightrope" and Ray Henderson's "Bye Bye Blackbird". Deanna sounds like Joni Mitchell on "Back and Forth Kid".
Derwin Perkins, guitar; Charlie Wooton, bass; Terrence Houston, drums; and Rafael Periera, percussion, complete the band. Deanna has also co-written "Conversing with Lincoln" with Wooton from The Royal Southern Brotherhood.
My favorite tracks however are those with the trombones of The Bonerama Horns; Mark Mullins, Craig Klein, and Greg Hicks. They make for a New Orleans musical gumbo on "Fine by Me Good Bayou", on the instrumental "Collarbone", and on "Hot Fun in The Summertime" written and recorded by Sly and The Family Stone. Bassist Scott Ambush of the above mentioned "11th Hour", and of "Spyro Gyra" fame, guests on the later.
Deanna has written all of the songs unless mentioned otherwise. Deanna sings and plays piano, organ and sax on this tour de force of an album. I have never heard Deanna sound quite like this before and I love it.
Richard Ludmerer
To Purchase this CD click Below: