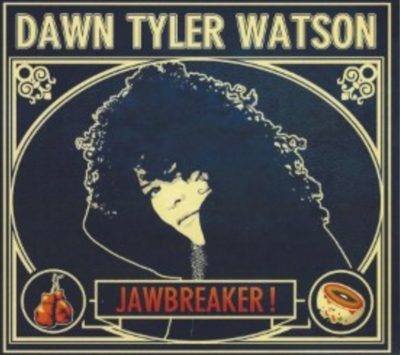 Dawn Tyler Watson
Jawbreaker
Independent
Dawn Tyler Watson was born in England but raised in Montreal where she studied Jazz and Theatre at Concordia University. As an actress she was featured in several movies including 2004's "Jack Paradise (Les Nuits de Montreal)" which translated means the "Nights of Montreal"; and in which she played a 1950's cabaret singer. The resulting soundtrack featuring Watson was nominated for a Prix Jutra, the equivalent of our Oscar awards. Realizing her true calling Watson released her debut recording 2006's "Ten Dollar Dress" with her band The Dawn Tyler Blues Project. In 2005 and 2007 Watson won the Maple Blues Award for Female Vocalist of The Year.
In 2007 Watson teamed up with Paul DesLauriers to record "En Duo" on Justin Time Records. The follow-up 2013's "Southland" resulted in the duo winning a Maple Blues Award for Best Acoustic Act. She has shared the stage with Jeff Healey, Koko Taylor, Susan Tedeschi, Cyndi Lauper, and others. Watson continues to tour Canada, the US, Europe, and Moscow billed as Montreal's Queen of The Blues.
The band on "Jawbreaker" includes Watson, vocals; Ben Racine, guitar and vocals; John Sadowy, piano and organ; Francois Dube, bass; Nicky Estor, drums; Producer Francois "Little Frankie" Thiffault, tenor sax; and Mathieu "Moose" Mousseau, baritone sax. The horn arrangements are by Racine and Thiffault.
Watson opens with a couple of modern gospel tunes. "Can't Nobody" written by Nashville singer-songwriter Jeanne Petersen and Steve Cirkyencic features the lyric "Can't nobody but god fill it up"; DesLauriers guests on guitar. Sadowy's piano and organ opens "Shine On" written by Watson. Watson shares the vocal with Patrick Lehman, a Canadian soul singer, as they sing "to the spirit we belong". Ron DiLauro, trumpet, joins the horn section of Thiffault and Mousseau.
Watson often tours with the Ben Racine Band. "A Little Bit More" was written by her and Racine and they harmonize beautifully. Sadowy's piano and the horns highlight this slow love song. Thiffault takes a fabulous tenor solo. "Son of a Gun" was written by Watson and Matthew Lipscombe. It features guitarists DesLauriers and Racine. This is so good it's a show stopper.
Seven more songs were written by Watson. Dube's bass opens "Tootsie Roll Blues" a sensual jazz tune. Watson plays the temptress as she sings "tell me how many licks to the center darlin', till that sweet sugar drop". Guy Belanger guests on harp. "I Don't Live Here Anymore" is a country styled tune with Dimitri Lebel-Alexandre on pedal steel.
"Rotten" is a horn led swing tune with a great vocal from Watson; Sadowy on piano, and a sax solo from Mousseau. "Smoked Meat" is a hot vocal featuring the horns and DiLauro on a muted trumpet. "I See" opens with Sadowy's organ and Dube's bass before the band joins in. Thiffault takes a sax solo followed by one from Watson on a mouth trombette. "It Ain't Elvis" is another fabulous vocal performance from Watson featuring the horns and Sadowy on piano.
There are also two great covers. "Greenbacks" was written by trumpeter Renald Joseph Richard who was born in Thibodaux, Louisiana and became the musical director for Ray Charles in the early 1950's. It was recorded by Charles in 1955; Richard also co-wrote "I Got a Woman" with Charles. Watson's theatrical training is evident on this great vocal performance with Sadowy on piano; and a sax solo by Charles Papasoff followed by one from Richard Irwin on drums. "Forever Young" from Bob Dylan is another great vehicle for Watson.
"Shine On/Rise" is reprised and re-arranged to close out this fine album.
Watson is a tremendous vocalist with a beautiful voice. The band is excellent throughout the recording as is the overall production by Thiffault. Out since July 7th Watson has already received nominations for two more Maple Blues Awards. One for "Female Artist of The Year" and another for "Recording of The Year". She will also be competing in this year's International Blues Challenge in Memphis where she will represent the Montreal Blues Society. Better check her out.
Richard Ludmerer