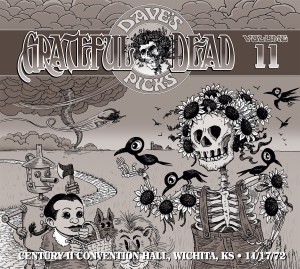 Grateful Dead "Dave's Picks: Volume 11" Wichita, KS 11/17/1972 (3 CD's)
Recorded by the legendary Owsley "Bear" Stanley these original tapes have been re-mastered in HDCD, like many of these rerelease series (Dave' Picks, Dick's Picks, Road Trips, and etcetera) the sound quality noticeably improves as the evening wears on, similarly the Dead become hotter as the evening progresses. '72 was the first year I had seen the band in concert so I have a biased fondness for almost every show from this spectacular era (which in this particular case) derives from almost forty-two years ago.
You will probably notice that almost everything during the lengthy first set has that little extra edge to it, starting with Chuck Berry's "Promised Land." John Philips of the Mamas and the Papas wrote "Me and My Uncle" it's short, sweet and sparkly executed here, and the Garcia-Hunter "Tennessee Jed" offers a eruptive jam during the outro, but Weir's Black-Throated Wind" trudges-on for far too long logging in at over seven minutes. Alternately "Bird Song" glows beautifully, squirming and burning majestically towards faraway and (at times) peaceful places. The Dead didn't forget "Jack Straw" (who like this concert is also from Wichita,) "cut his buddy down, dug for him a shallow grave, and laid his body down." Yet the Lesh-Hunter, and (somewhat) rarely performed "Box of Rain" suffers with Phil's ragged vocals. The traditional "Don't Ease Me In" swings in a bluesy vein, as does the punchy "Beat it on Down the Line," and Johnny Cash's "Big River." Garcia amps- up on "China Cat Sunflower" especially during the transition to the traditional "I Know You Rider" that includes bombs from Lesh's bass concluding disc one.
Disc two opens with (still from the first set) the second Chuck Berry cover "Around and Around" with Weir urging Garcia to hop-on, not that Jerry needed encouragement. "Casey Jones" ends the set with a locomotive like rush. The second set starts with the fiery Garcia/Lesh/Hunter "Cumberland Blues" and it's immediately obvious that the band is hitting on all cylinders. Marty Robbins "El Paso" is also spiritedly performed. I never know what to expect with "He's Gone" but this version moves at a quicker than usual pace that's resolute with short gospel choruses, as there's more emphasis on the jam, Garcia guides lifting off with a power solo for his bandmates to support and follow, it's also performed here standalone which didn't happen often. Their anthem "Truckin'" gets hot and heavy as the entire band burns, shifting towards the bombastic Weir-Kreutzman "The Other One," soaring through the universe like a supernova cataclysmic explosion that eventually crashes into "Brokedown Palace," where Garcia's vocal and guitar solo is soulfully sweet. A playful Garcia toys during the instrumental segment of the Weir-Hunter "Sugar Magnolia" that ends disc two, but doesn't end the set.
Disc three starts with a mostly la-de-da "Uncle John's Band" until the jam as Weir and Lesh lock-in with Garcia and roll. The third Chuck Berry cover of the night "Johnny B. Goode" rocks and rolls everyone home with delight. Disc three also has five tunes from a two night prior set performed in Oklahoma City. Starting with a righteous and enormous "Playing In the Band" (30:57.) The jam starts out focused, until Garcia starts to tinker with his wah-wah rig, Weir's very sharp with his creative rhythm playing and guitar fills as the band explores beyond the boundaries of planet earth with plenty of impromptu jamming that doesn't get too weird. A standalone "Wharf Rat" is lush, gorgeous and superlative for nearly eleven minutes. The final three-piece segment opens with Buddy Holly's thumping "Not Fade Away" squarely punching into the traditional "Goin' Down the Road Feeling Bad," back to "Not Fade Away" (total time approximately eighteen minutes for this trifecta) that closes the Oklahoma City show, as well as disc three. Note: The Dead performed "Not Fade Away" five hundred and thirty times.
The early spring and fall runs of '72 shows rarely receive the props and kudos they deserve, probably because these early and late 1972 gems are overshadowed by their momentous (and better documented) spring jaunt to Europe. Plus the 1972 fall shows did not include Ron "Pigpen" McKernan (who passed just four months after this concert.) Pigpen was a major loss for the band's sound that exuded a soulful, bluesy and grittier path. The Grateful Dead continued to wildly prosper and grow without Pigpen, and their newer paths and directions sprouted from these November 1972 recordings that can now be found encapsulated as "Dave's Picks Eleven." No matter, these performances are quite solid, the group often creates with ease, reckless abandon, and fluent improvisations, making this latest edition (now nearing the end of its third year,) a very worthwhile addition to the never-ending flow of concert material unearthed from the Dead's vaults.
Expect more concert releases, as I believe there's a bottomless pit of unique and quality material to choose from. Enjoy!
For fifteen years Bob Putignano has been pivotal at WFDU with his Sounds of Blue radio show: www.SoundsofBlue.com – Previously a senior contributing editor at Blues Revue, Blueswax, and Goldmine magazines, currently the Music Editor for the Westchester Guardian Newspaper www.WestchesterGuardian.com and now at: www.MakingAScene.org
Putignano can be directly contacted at: bob8003@yahoo.com