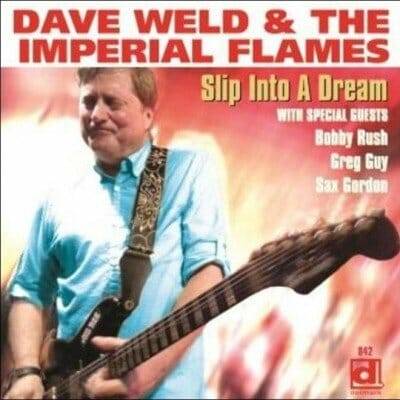 Dave Weld & The Imperial Flames
Slip Into A Dream
Delmark Records
Chicagoan Dave Weld has been around the blues most of his 63 years. Weld has played with Hound Dog Taylor, Otis Rush, J.B. Hutto and others. At Hutto's house he first met Lil Ed Williams. Together they started Lil Ed and The Blues Imperials. Weld played with Lil Ed for ten years and he appears on their 1986 Alligator Records debut "Roughhousin'".
Dave Weld and The Imperial Flames first released 1988's "Rough Rockin in Chicago" on Blue Sting Records. In 1996 Weld was joined by Lil Ed and together the Imperial Flames released their sophomore album "Keep On Walkin" on the Earwig label.
Weld's first Delmark recording was 2010's "Burnin Love" produced by Bob Koester. This is Weld's second album for Delmark. The band consists of Weld, vocals and guitar; Monica Myhre, vocals; Harry Yassan, piano; Dave Kaye, bass; and Jeff Taylor, drums. Additional musicians include Graham Guest, keyboards; Bobby Rush, harp; and "Sax" Gordon Beadle, tenor and baritone sax.
The album opens with an overture. "Slip Into A Dream" is the first of five songs co-written by Weld and his partner Myhre. This is a great tune that breaks from tradition as the chorus has more of a group harmony sound. The contrast is fabulous. "Sweet Rockin Soul" is the appropriately named rave that follows.
Although Weld is a good vocalist the addition of vocalist Myhre gives the band an additional dimension much like Inetta Visor does for Mississippi Heat. Myhre has also written four songs of her own. "Looking For a Man" features Rush on harmonica. The slow blues "Walk On Down" is another of my favorites.
"Take Me Back" is another tune not in the usual style expected and it's what makes the Imperial Flames an exciting band. It features Parris Fleming, trumpet; Bryant Smith, trombone; and Rajiv Halin, tenor sax; from the horn section of the funk/jam band The Heard.
"Sweet Love" (Dulce Amor) features The Chicago Horns led by Bill McFarland, trombone. Rounding out this veteran section are Hank Ford, tenor saxophone; and Kenny Anderson, trumpet. Graham Guest plays piano.
"Tremble" was written by Weld while "Dorothy Mae" is from drummer, Taylor. On the later Taylor's drums are upfront in the mix and he handles the vocal himself. These feature Sax Gordon. Greg Guy, Buddy Guy's son, sits in on guitar on "Too Bad, So Sad".
The only cover is J.B. Hutto's "20% Alcohol". Weld is a slide guitarist in the style of Hutto or Elmore James and his playing is formidable throughout the recording. Once again Rush joins in on harp. The original version can be heard on Hutto's "Hawk Squat" recently re-issued by Delmark.
The album closes with a reprise of "Slip Into A Dream". This is a very exciting album from Weld which should be heard by everyone. Liner notes are by Downbeat's Frank-John Hadley.
Richard Ludmerer