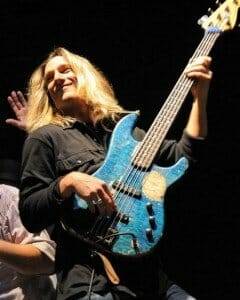 EDITOR NOTE: About halfway through the interview the online signal dropped and we lost about 20secs of the Interview. But it is still an interesting and informative look at a great artist on the scene today.
Bassist for ROYAL SOUTHERN BROTHERHOOD, BONERAMA and Bandleader/Bassist for CHARLIE WOOTON PROJECT and ZYDEFUNK.Like many of the artists born and raised in Louisiana Charlie has hand crafted his own style of bass playing that is comprised of all the different sounds and rhythms that make up Louisiana's versatile musical styles. In high school he was elected to the Louisiana All-State Jazz Band for two years and studied under Ellis Marcelis, Billy Taylor, and Kim Stone. Music became his way of life, his passion and above all a way that he could communicate on a raised level. He continued his musical education on and off the streets, from the classrooms to the clubs, through the deep south to the west coast eventually landing in Atlanta, Georgia.
In 1997 Charlie moved to Atlanta where he played regularly peforming with other Atlanta musicians including Oliver Wood, Yonrico Scott, Sean Costello, and it was in Atlanta where he founded his own band the CHARLIE WOOTON PROJECT and later where he coined the phrase and named his second group after the musical hybrid ZYDEFUNK.
After moving back home to Louisiana Charlie joined BONERAMA and shortly after that he was asked to join forces with Cyril Neville, Mike Zito, Devon Allman and Yonrico Scott to form the Super Group ROYAL SOUTHERN BROTHERHOOD. THE SYRACUSE NEW TIMES say's "Wooton showed that he, too, had a broad range of skills, channeling Jaco Pastorius in everything from his syncopated bass lines to the way he wore his hair. During his solo he darted from his customary plucking style to bars of slapping and strumming, using the length of the neck to his advantage." www.charliewooton.com Listen to and Purchase the Royal Southern Brotherhood CD HERE!!