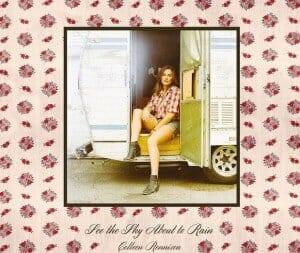 I have a special fondness for female musicians, and finding a new one who really soars like Canada's Colleen Rennison just makes my whole day!
Rennison has a pure alto voice that is capable of both vulnerability and edginess. On "See The Sky About to Rain," she features songs written by other great Canadian songwriters, such as Robbie Robertson of The Band, Leonard Cohen, Joni Mitchell and, of course, Neil Young.
The CD opens with Robertson's glorious gospel swing number, "All La Glory," which immediately showcases Rennison's range and power. It is followed by "White Freightliner," a delightful mix of bluegrass and blues written by Townes Van Zandt, and the soul ballad " Whiskey, Whiskey," which features great slide guitar and an evocative horn section plus a vulnerable vocal delivery.
The waltzing "Oleander" benefits from delightful harmonies from the talented McCrary Sisters. It is followed by one of my two favorite tracks on the CD, as Rennison turns Leonard Cohen's "Why Don't You Try" into a cabaret number complete with accompaniment by banjo, fuzzy drums, and a toy piano! The gender switch gives a fresh touch to the biting lyrics too.
Rennison proves she can handle Southern rock with her take on Bobbie Gentry's great "Fancy," and then gives a heart-melting performance on the tragic "Blue Wing."
While Joni Mitchell's "Coyote" is a beautiful song, this version is tiny bit too plaintive for me. But it is followed by a delightful take on The Cowsills' honkytonk "The Fool Is the Last One to Know."
The CD ends with my other favorite track, Neil Young's "See The Sky About to Rain," beefed up with a more Southern rock vibe and perfectly suited to Rennison's vocal.
Overall, this CD is a treat from start to finish. You owe it to yourself to discover this great artist, who also plays with the group No Sinner but who has finally blessed us with this debut solo project.
To Purchase this CD Click Below