Classic African American Songsters
Smithsonian Folkways Records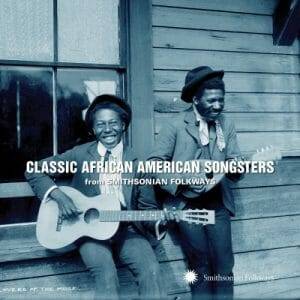 In 1987 The Smithsonian Institute, our national museum located in Washington D.C., acquired the Folkways Records catalogue from its former owner Moses Asch. This is the 23rd installment in the Smithsonian Folkways "Classic" series. This compilation has been mastered by Pete Reiniger.
Barry Lee Pearson, scholar of African American music at the University of Maryland, refers to these musicians as "songsters". Many black musicians, especially those from the cities, were exposed to a broad mixture of influences that included ragtime, country, and popular music. Therefore the "songster" was an entertainer, both a keeper of tradition and also contaminating that tradition with popular music. He could alter his repertoire according to his audience.
Pearson, along with Smithsonian Folkways archivist Jeff Place, has selected songs from musicians some of whom are considered folk blues icons. Primarily they accompany themselves on guitar. Among the 21 tracks are two from Brownie McGhee, "Raise a Ruckus Tonight" and "Pallet on the Floor". Huddie Ledbetter a.k.a Leadbelly contributes "My Hula Love". Big Bill Broonzy performs "Bill Bailey". Mississippi John Hurt and The Reverend Gary Davis sing but also give us guitar lessons, the former on "Monday Morning Blues" and the later on "Candy Man". John Jackson performs "Don't Let Your Deal Go Down"; and John Cephas and Phil Wiggins do "Going Down the Road Feeling Bad" both later recorded by The Grateful Dead. Also included are songs from Warner Williams with Jay Summerour "Honeysuckle Rose", Pink Anderson "The Boys of Your Uncle Sam", Peg Leg Sam "Froggy Went A-Courting", Snooks Eaglin "Careless Love" and others. These are robust and often humorous performances.
The Smithsonian Folkways recordings are a great resource for those seeking historic music from eras gone by. The 40 page booklet by Pearson and Place that accompanies the cd features detailed notes on the origins of each tune. Other compilations in this series include "Classic Appalachian Blues" and "Classic Harmonic Blues". These are great additions to anyone's music collection.
Richard Ludmerer
To Listen to and purchase this CD Click Below!