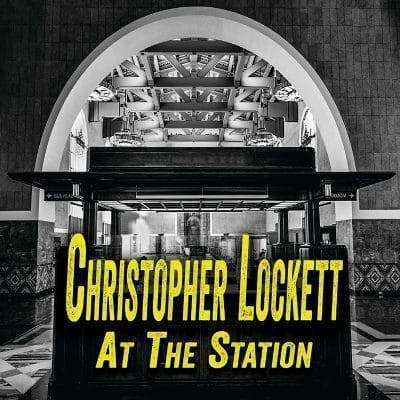 Christopher Lockett
At the Station
Gritbiscuit
At the Station is the fourth album for rootsy-blues singer-songwriter Christopher Lockett. He's a storyteller whose music lies somewhere between hard outlaw country and blues rock. He may be hard to categorize but is undoubtedly a gifted songwriter with insightful and provocative lyrics. Lockett has more than a few unconventional streaks. He is known for playing instruments that most people would not expect such as Kalimba, jaw harp, Appalachian dulcimer, and blues harp. Even when he names the harmonica players who have influenced him, it's not the usual list – Elder Roma Wilson, Snooky Pryor, Sonny Terry, Jason Ricci, Adam Gussow and DeFord Bailey." With his gritty low baritone voice, it's rather surprising to learn that he counts among his major songwriting influences Nanci Griffith, Emmylou Harris, and Kate Wolf. Lockett is an award-winning cinematographer, photographer and director whose day job requires lots of travel that has brought him to five continents. Closer to home he has spent time with Honeyboy Edwards, Johnny Shines, and Robert Jr. Lockwood. He's got plenty of material to draw from and courses through a number of genres.
Lockett offers a dozen story-based songs produced by Fernando Perdomo (drums, percussion, bass, organ, lead guitar). The set features former Bob Dylan violinist Scarlett Rivera & vocalist Kitten Kuroi (Elvis Costello). Lockett, who considers the harmonica his best instruments, plays it on only two songs, otherwise playing various guitars and banjo. Additional musicians are Korey Simeone (fiddle/dobro), Chad Watson (mandolin), Bob Bernstein (pedal steel) & Robbie Gennet (piano). They kick off with the standout hard-edged "The Reckoning," featuring searing electric guitar from Perdomo and Kuroi's animated harmonies. There's a bit of the angry Steve Earle approach in this one, a protest song inspired by Woody Guthrie's "Plane Wreck at Los Gatos (Deportee)". He recollects – "I saw photos of field workers harvesting the food everyone eats when it was 110F with smoke from the wildfires rising over the mountains in the background. That hit me hard…There will be a reckoning on farm worker labor rights and the food supply chain this country someday. It's long overdue."
The fiddle driven "In the By and By" has an old timey singalong feel, giving us a respite from the opening blast. The sweeping "Driving to Nashville (With Memphis on My Mind)" is yet another with prominent fiddle and harmonies from Kitten. As the album unfolds, it gathers strong momentum in the second half as the love song to independent women "Bring Your Love On Home To Me," the piano driven British Isles tinged "Whiskey for Everything" ("down the lost highway, the bottle let me down") and the celebratory "Wet a Line" express the joy of living, the latter the stuff of a good old rowdy barn dance. These all presage the title track, imbued by Scarlet Rivera's violin in the tune that's takes the opposite tact, a goodbye letter to his parents and specifically his mother who has end-stage Alzheimer's. As he summarizes the theme of the album – "Short answer-mortality, joy, and the path forward through the wreckage."
"Blues for DeFord Bailey," about the Black Grand Ole Opry harmonica player who was eventually blackballed in the Jim Crow era, is purely Lockett blowing a storm on his own blues harp. The upbeat rocker "E Pluribus Unum" is another in the protest vein while "There's No Getting Over It" is a brief philosophical statement on needing to push through, which is expressed again in the closer, "Sweat Work," the other tune featuring his harmonica. There are strains of "Not Fade Away" here with a biting lyric – "They want your rhythm but not your blues/Couldn't dance a step if they stole your shoes." It's almost a kiss-off – everything may be messed up so what the hell, let's just dance as we move "onward through the wreckage."
Lockett has observed more than most but rather than wear his emotions on his sleeves as he does in a few places, the overriding takeaway is that to be alive and well is the ultimate gift.
Help Support Making a Scene
Your Support helps us pay for our server and allows us to continue to bring you the best coverage for the Indie Artists and the fans that Love them!
Make a one-time donation
Make a monthly donation
Make a yearly donation
Choose an amount
Or enter a custom amount
$
---
Your contribution is appreciated.
Your contribution is appreciated.
Your contribution is appreciated.
Donate
Donate monthly
Donate yearly
Subscribe to Our Newsletter