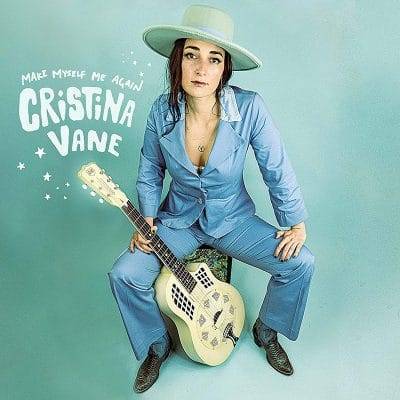 Christina Vane
Make Myself Me Again
Red Parlor
Make Myself Me Again is the follow-up for resonator-playing, foot-stomping Cristina Vane who made her auspicious debut in 2021 with Nowhere Sounds Lovely. While blues was an essential focus of the debut, Vane revealed her affection for mountain music, folk music, and even western waltzes. Having moved to Nashville since, she maintains the pre-war blues sound but rounds it out even more widely here. Born in Italy to a Sicilian-American father and a Guatemalan mother, Vane grew up between England, France, and Italy, and was fluent in four languages by the time she moved to her fathers' native United States to attend university at 18 years old. And yet, she has a distinctly "American" sound. Her sound is somewhat of a throwback with her finely honed guitar playing and an emotive, rich voice.
Make Myself Me Again is co-produced by Brook Sutton (Blackberry Smoke) and Jano Rix (The Wood Brothers) and features appearances by Vane's world-class musician friends like Bronwyn Keith-Hynes (Molly Tuttle) and Billy Contreras (Béla Fleck). She considers the album more of a return to her rock roots with minimal production. Credits read Cristina Vane (vocals, slide guitar, clawhammer banjo), Brook Sutton (bass), Jano Rix (keys, percussion), Jake Friel (harmonica), Bronwyn Keith-Hynes (fiddle on "River Roll" and "Time for Leaving"), Billy Contreras (fiddle on"Oxbow Meander Loop") Kyle Tuttle (baritone banjo on "Oxbow Meander Loop"), Tyler Larson (guitar on "Oxbow Meander Loop"), and Karl Smakula (guitar on "River Roll" and "Time for Leaving").
The opening title track has traces of Mississippi John Hurt's finger style guitar sound with lyrics that presage a more personal approach to the songs. Understandably, she is new on the scene, making her way in a new town, one that may well be the most challenging place to stamp one's own sound. In fact, Vane cites her major influences in her guitar playing as Rory Block, Mississippi John Hurt, Skip James, Blind Willie Johnson, and The Carter Family. Her scope is ridiculously wide however. With her nomadic upbringing, Vane had no sense of belonging to any one culture or country. What she did have, however, was an intense love of music. In an interview for Guitar Girl magazine she related, "I grew up on a lot of '90s classics mixed with my parent's taste: Alanis Morrissette, The Cranberries, The Smiths, Dire Straits, Depeche Mode, The Rolling Stones, Aerosmith, Destiny's Child, Blink 182, etc. I was obsessed with Slash & GNR in general, loved Led Zeppelin, Iggy Pop, Bon Iver, Metallica, The Black Keys… I went through a lot of different genres since then – punk rock, metal, indie, electronic, and more."
The single "How You Doin" describes the all-too-common sequence in the younger dating scene – aggressive pursuit followed by a sudden disinterest. Often, it's a text that starts with "how you doin." So many of these songs are the honest expression of someone growing up. "Sometimes Baby" begins with a lonely chord, setting up a song about the loneliness and exhaustion that comes with a traveling musician. Her slide guitar with Rix's flourishes communicates these emotions almost as well as the lyrics. She pulls out her claw hammer banjo for "River Roll" which is not a song about relaxing but instead about the environmental crisis we are all building ("we gonna fill the lake with iron and rust"), Keith-Hynes' fiddle adds to the urgency. Friel's harmonica imbues "Small Town Nashville Blues," written during a time of several romantic mishaps and celebrating the close-knit camaraderie of the city musician community. This, as much as any, sounds like the pre-war blues of her debut even down to classic blues lyrics like "if I lose my money, let me lose." She continues that bluesy approach, North Mississippi Hill Country style into "Little Black Cloud" with Friel's support.
"Time for Leaving" is about recognizing the right time to make that move, another banjo-driven ditty and another feature for Keith-Hynes. The sequence of "Old Enough," "Things Have Changed" and "Colorado Sky" all deal in different ways with fleeting relationships, respectively in a finger picked style, resonator with blues harp, and a combination of finger picked and resonator slide. The instrumentation alone on "Oxbow Meander Loop" signals bluegrass and it is indeed a double banjo tune with Billy Contreras on fiddle with the tune rather obviously named after a certain section of the river and musical rhythms to denote circular patterns. Inevitably there would be a breakup song in this bunch. Hence, "Little Bit of Me" with its lyric "God bless this mess, god bless you too". The closer, the visceral blues "Strange Times" extends the bitter feelings that accompany a breakup.
Make no mistake. Christina Vane has indeed arrived in a major way after just two albums. Not only does she demonstrate her immense guitar and vocal skills here, but she courageously bares her soul which is indeed the essence of deep blues. Vane is on tour this summer. Catch her when you can as her career harbingers a steep trajectory.
– Jim Hynes
Help Support Making a Scene
Your Support helps us pay for our server and allows us to continue to bring you the best coverage for the Indie Artists and the fans that Love them!
Make a one-time donation
Make a monthly donation
Make a yearly donation
Choose an amount
Or enter a custom amount
$
---
Your contribution is appreciated.
Your contribution is appreciated.
Your contribution is appreciated.
Donate
Donate monthly
Donate yearly
You can donate directly through Paypal!
Subscribe to Our Newsletter