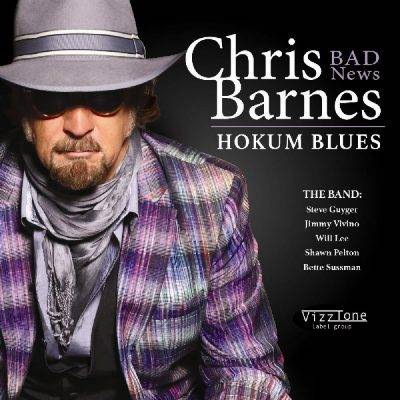 Chris "Bad News" Barnes
Hokum Blues
Vizztone Label Group
Chris Barnes has been a writer and performer for The Carol Burnett Show, Saturday Night Live, Seinfield, 30 Rock, and Curb Your Enthusiasm. He began his blues music career opening for acts at the legendary blues club, Tramps, where he would take audience suggestions and improvise on blues tunes. In 2015 Barnes released his debut recording "Bad News" Barnes and The Brethren of Blues Band "90 Proof Truth".
Barnes' comedic sensibilities are fueled by his appreciation of "Hokum Blues"; humorous songs that use sexual innuendo. His song selection includes older tunes popularized by Hudson Whitaker better known as Tampa Red that date back to the late 1930's and 1940's. Other sources of inspiration include the lesser known "Hokum Boys" who recorded between 1929 and 1937.
Barnes having been in the business for sometime has surrounded himself with some all- star talent. The producer chosen for this new album is Will Lee, the former bass player in the house band on "Late Night with David Letterman". Lee has also recorded with many luminaries such as George Benson, James Brown, Hiram Bullock and Gary Burton. Lee is also the founder of The Fab Faux, a Beatles tribute band, which includes Jimmy Vivino the musical director of The Conan O'Brien show.
The band is Barnes, vocals; Lee, bass; Shawn Pelton (from The Saturday Night Live Band), drums; Jimmy Vivino, guitar; Steve Guyger, a 2009 Blues Music Award nominee for Best Instrumentalist – Harmonica; and Bette Sussman (musical direct for Bette Midler), piano. Now that's a band!
"It Hurts Me Too" written and recorded by Tampa Red was a hit for him in 1940. Vivino plays a resonator guitar while Guyger is on harp.
"Let Me Play With Your Poodle" was also recorded by Red in 1942. Sussman takes a beautiful piano solo while the horn section of Steve Bernstein, trumpet; Charlie Pillow, sax and clarinet; and Clark Gayton, trombone, complete the production.
"I'm Gonna Get High" was recorded by Tampa Red and The Chicago Fire on their collection of reefer songs. Opening with Pelton's drums the song also includes Bernstein on a muted trumpet.
"Tight Like That" is from Tampa Red and Georgia Tom. Vivino is on slide while Guyger gets that high reedy sound on his harmonica.
The hilarious "I Had To Give Up The Gym" opens with the fantastic horns and Gayton's fabulous trombone. Pelton adds some additional percussion with his cowbells.
"Things About Coming My Way" features Vivino's evocative resonator guitar playing. Written by Tampa Red and Georgia Tom this is my favorite vocal from Barnes.
"You Can't Get Enough of That Stuff" is from The Hokum Boys and another very good vocal from Barnes. Included are great solos from Vivino, Lee and Sussman.
Barnes mixes his Hokum Blues with jump blues and ragtime. He reprises these and other hilarious songs from this era gone by.
Richard Ludmerer
[amazon_link asins='B071XM8BPZ' template='ProductCarousel' store='maasc-20′ marketplace='US' link_id='f38a6901-9fc4-11e7-8164-a33ed7c7488a']