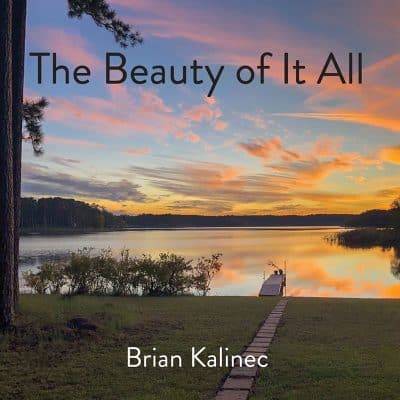 Brian Kalinec
The Beauty of It All
Berkalin
Texas singer-songwriter Brian Kalinec writes about common, everyday subjects but has a special gift for infectious hooks and memorable rhymes. He grabs us right away with his opening autobiographical title track, welcoming us into an album brimming with comforting folk songs. Acclaimed producer Merel Bregante at Cribworks Digital Audio frames these well-crafted songs with just the right instrumental touches. Kalinec has the honor of premiering "Big Hearted," written by Grammy winner Steve Seskin and Kate Schutt as well as a co-write with Mando Saenz, "The Wind." The former is a plea for unity, asking us all to set aside our differences and find the human aspects in the face of political differences. The latter, like several of his originals, speaks to resilience. In one sense, these songs come off a bit on the sappy side until we get to the keen observation of latent racism in "Redwood Fence." Throughout Kalinec's honest delivery gives us sustenance, nonetheless.
Bregante assembled a stellar group of backing musicians, especially keyboardist Pete Wasner who imbues each track with his grand piano and other keyboards, Cody Braun on mandolin and harmonica, Dave Pearlman or Patterson Barrett on pedal steel, bassist Rankin Peters, guitarist Michael Dorrien, and cellists Dirje Childs and Madeline Herdeman along with a host of background vocalists. It's Kalinec though who performs most of the acoustic and electric guitar parts.
"Breakfast at Midnight" essays the lonely troubadour existence after the show is over, replaying songs in his head and holding out hope that he connected. "Two Roads" is devastating tale of two former lovers who took divergent paths, one sobered up while the female took a job in NYC only to pass in the towers on 9-11. He has every reason to be angry about a breakup in "I'd Never Expect It" but somehow stays cool as the ballad just floats along. "If You'd Only Asked Me' plies similar turf. There's the tale of the nomadic "Next Door Stranger" that the protagonist never really meets but gets to know in other ways. He chronicles the emotions in the daily routine of a rodeo concession worker in "Pizza and God," keeping a stoic disposition in the face of it all. "Fix-it Man" is the tale of an aging, generous handyman, the kind we've all known at one time or another. It's just Wasner and Kalinec on the ballad, "Overcommitted," decrying our obsession with staying busy and holding on to baggage we don't need. We can all relate to this – "I'm cleaning up the clutter, clearing up my mind/Souvenirs I've never missed now suddenly I find/I'm no longer feeling guilty about leaving guilt behind/For dead."
"Full Moon Window" is about reminiscing a fleeting memory and the overriding theme of resilience. These lyrics in the chorus somehow linger – "Was this heaven or was it Houston/Or just one more slight of eye/It was real or an illusion/I'll always treasure as years pass by." Dave Pearlman's pedal steel and Wasner's piano beautifully support the reflective lyrics. "River of Kindness" is the summation of the themes of unity, resilience, forgiveness and hope that course through these eminently listenable, often provocative songs.
Help Support Making a Scene
Your Support helps us pay for our server and allows us to continue to bring you the best coverage for the Indie Artists and the fans that Love them!
Make a one-time donation
Make a monthly donation
Make a yearly donation
Choose an amount
Or enter a custom amount
$
---
Your contribution is appreciated.
Your contribution is appreciated.
Your contribution is appreciated.
Donate
Donate monthly
Donate yearly
You can donate directly through Paypal!
Subscribe to Our Newsletter