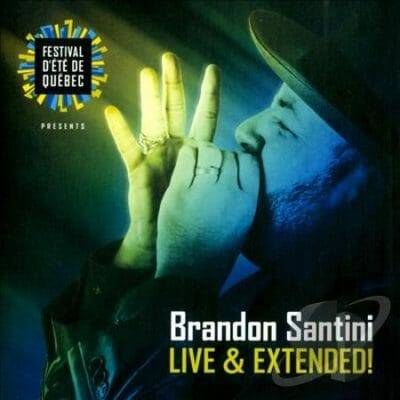 Brandon Santini
Live & Extended!
Vizztone Label Group
Brandon Santini grew up in North Carolina but moved to Memphis in 2003. Brandon played all the Beale Street Blues clubs and for seven years fronted the Delta Highway Band who received a 2009 Blues Music Award nomination as Best New Artist for their debut recording "The Devil Had a Woman".
In 2011 Santini released the first recording under his own name "Songs of Love, Money, and Misery" and it received rave reviews. For Santini's 2013 follow up recording "This Time Another Year" Brandon received 2014 BMA nominations for both "Contemporary Blues Album of The Year" and also for best "Instrumentalist – Harmonica". In the later category he was nominated alongside Charlie Musselwhite, Kim Wilson, Rick Estrin, and James Cotton.
This is only Santini's third recording as he and his band were captured live, in July of 2014, during Canada's Le Festival D'ete de Quebec. Currently the band consists of Santini, vocals and harmonica; Timo Arthur, guitar and backing vocals; Nick Hern, bass and backing vocals; and Chad Wirl, drums.
This live set includes "I Wanna Boogie With You" from "Songs of Love, Money and Misery" and three songs found on Santini's BMA nominated "This Time Another Year"; the title track co-written with Musselwhite; "What You Doing To Me" co-written with Victor Wainwright and Jeff Jensen, and "Help Me With The Blues".
Santini pays reverence to the masters as he includes great covers of Muddy Waters "One More Mile", Sonny Boy Williamson's "Elevate Me Mama", Slim Harpo's "Got Love If You Want It" and an updated version of Big Walter Horton's "Have a Good Time".
This hour long hard drivin' Chicago blues set will remind you of the early 1970's live sets recorded by the James Cotton Blues Band. This is one helluva joy ride.
Richard Ludmerer