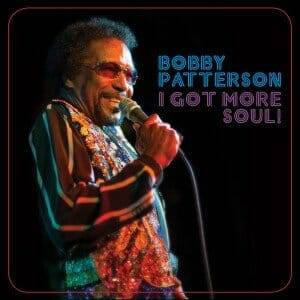 Bobby Patterson
I Got More Soul
Omnivore Recordings
Bobby Patterson is a Texas, Rhythm and Blues, legend in the soul tradition of Bobby "Blue" Bland, Otis Redding, and Wilson Pickett.
As a producer Patterson worked with Fontella Bass, Chuck Jackson, Little Johnny Taylor and others. He has also been a Dallas area DJ.
Patterson's first single in his own name was released in 1962. Among the songs he has written and recorded are "Let Them Talk" popularized by Little Willie John and Robert Cray; and "That's What the Blues is All About" recorded by Albert King.
In 1995 the indie rock group "Golden Smog" recorded Patterson's song "She Don't Have to See You" on their "Down By The Old Mainstream" album. The vocalist was Jeff Tweedy of Wilco. In 1996 Patterson released his last studio recording "Second Coming".
In 2012 his 1972 "Texas Soulman Extraordinaire" album was re-issued. That import included the song "How Do You Spell Love", popularized by The Fabulous Thunderbirds.
This new album is Patterson's first in over eighteen years. Zach Ernst is both producer and lead guitarist. The band consists of Danny Freeman, guitar; Ian Varley, keyboards, and the rhythm section of Scott Nelson, bass, and Matthew Strmiska, drums. The horn section includes Joseph Woullard, baritone sax; Jason Frey, tenor; and Derek Phelps, trumpet.
Most of the songs are co-written with Ernst. Highlights include the title track "I Got More Soul", "I Feel the Same Way", "Can You Feel Me", "I Know How It Feels", and "The Entertainer Pt.1". He also covers "Sly and the Family Stone's "Poet" originally released in 1971.
Patterson's voice sounds as good as ever. In August, Patterson will perform as part of Lincoln Center Out of Door's Americana Festival, where he shares the week with headliners Emmylou Harris and Rodney Crowell; Cassandra Wilson; Roseanne Cash; Beverly "Guitar" Watson and Don Flemons.
If you like the old school R n' B you don't want to miss Patterson. If you can't be in New York to see him you better get his new album.
Richard Ludmerer