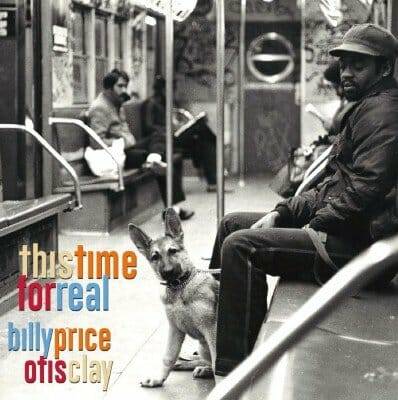 Billy Price/Otis Clay
This Time For Real
Bonedog Records/Vizztone
Otis Clay is a soul blues icon. In 2013 he was an inductee into the Blues Hall of Fame. Now in his early seventies Clay may arguably be making the sweetest music of his career. In 2013 Clay released "Truth Is" and received Blues Music Award nominations for "Soul Blues Album of The Year" and "Soul Blues Male Artist". In 2014 Clay collaborated with Johnny Rawls on their "Soul Brothers" album and it resulted in another nomination in both categories. Now in 2015 Clay has just released this new album with Billy Price.
In the mid-seventies Billy Price was the lead singer in Roy Buchanan's band. Price appears on Buchanan's 1975 "Live Stock" album recorded live in New York City. From 1979 until 1988 Price recorded four albums with The Keystone Rhythm Band. Price has a total of nine of his own albums. "That's How It Is" is a duet with Clay and it appears on his 1997 "Soul Collection". Price's most recent studio album is 2013's "Strong".
This album is produced by Duke Robillard. The band consists of Price and Clay, vocals; Robillard, guitar; Mark Teixiera, drums and percussion; Brad Hallen, bass; Bruce Bears, keyboards; and the horn section of Mark Earley, tenor and baritone sax; and Doug Woolverton, trumpet. Background vocalists include Theresa Davis; Diane Madison, and Diana Simon.
I love their song selection. Price and Clay open with "Somebody's Changing My Sweet Baby's Mind" which was released as a single by Little Milton in 1970. "Going To The Shack" is from Sly Johnson.
Two songs come from Darryl Carter "I'm Afraid of Losing You" re-arranged by Tom Tom Washington and first recorded by Betty Everett in 1974; and "Broadway Walk" co-written with Bobby Womack, and Dan Penn, and recorded by Womack in 1969.
"All Because of Your Love" was co-written by George Jackson and Raymond Moore. It was recorded by Tyrone Davis, by Clay, and later by Jackson. "I'll Never Do You Wrong" is from Joe Tex. "Love Don't Love Nobody" was recorded by The Spinners in 1972. "Book of Memories" was a single on Decca Records recorded by Clyde McPhatter in 1970. "Don't Leave Me Starving For Your Love" is from the Motown songwriters Holland, Dozier, and Holland.
Price and Clay's voice harmonize fabulously throughout the recording. On the last three tracks they remind me of Sam and Dave. "Too Many Hands" was originally recorded by Clay in 1972 on his "Trying to Live My Life Without You" break through album. "Tears of God" was written by David Hidalgo and Louie Perez of Los Lobos; and Isaac Hayes and David Porter's "You Got Me Hummin'" was a single for Sam and Dave in 1966.
I love this album. Look for "This" to be another award winner for Clay; and for it to further spread the word on the exceptional Billy Price.
Richard Ludmerer